By SONIA MANSFIELD / Columnist
Posted: March 1st, 2012 / 10:09 AM
Teen weddings, texting while driving accidents, suicide attempts: When did GLEE turn into ONE GLEE HILL?
I'm sorry, GLEE, but it's over between us. I'm breaking up with you.
I do appreciate GLEE. I understand what it is you're trying to do. It usually sends a positive message about acceptance and understanding. I don't love the message it sends to young girls, which is that boys are everything and should be the center of their worlds. But, on the whole, the show means well. I get it.
I don't know exactly when GLEE lost me. It happened gradually. I used to love GLEE. I would watch it immediately; sometimes when it was actually on the air and not a recording. I know, right?
But slowly, the episodes started to pile up on the DVR. The last time I watched GLEE I started fast forwarding through annoying characters, which meant I got through an entire episode in about 10 minutes.
The characters are not consistent. They change every week to fit the storyline. Look at Sue Sylvester. Here's my impression of Sue the past two seasons: "I will destroy the Glee club. Thanks for singing at my sister's funeral. Now, I will destroy the Glee club. Now let's all sing at a homeless shelter. Now, I will destroy the Glee club. Give me some sperm, Glee teacher that I supposedly hate, so I can have a baby. Now, I will destroy the Glee club." Jane Lynch deserves better.
And why is Mr. Schuester always hanging out with his students? Isn't that kinda creepy? I think most school districts frown upon that sort of thing. Mr. Schuester gets engaged and asks one of his students to be his best man. Doesn't he have any friends at all?
And speaking of having no friends at all, remember when Kurt's father and Finn's mother got married? Why were the girls in the Glee club her bridesmaids? Doesn't Finn's mother have friends or relatives?
Maybe I'm too cynical for GLEE. I find the Rachel/Finn wedding particularly stupid. Are we supposed to think it's a good idea? I'm sorry but listening to teenagers talk about how they are in love and going to be together forever is laughable. Come on. We all know they will break up during their first semester in college during the Thanksgiving break. Duh.
Oh, and the song choices haven't been top notch these days, either. They finally ran out of Katy Perry songs, and they've lost their way, musically. It must be a huge relief to the show runners that Perry is working on a new album.
Oh, GLEE, I'm just not that into you anymore. It's been fun … sort of. There's just too many good TV shows out there for me to waste my time on one that I'm not really enjoying anymore.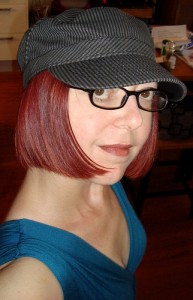 Sonia Mansfield likes to talk smack, make nerdy STAR WARS references and feed her unhealthy obsession with pop culture. Make sure you follow her on Twitter for constant updates or check out her blog, The Sonia Show.
Follow us on Twitter at ASSIGNMENT X
Fan us on Facebook at ASSIGNMENTX
AGREE? DISAGREE? LET YOUR VOICE BE HEARD – COMMENT BELOW
Related Link: TV Review – GLEE – Season 3 – "On My Way"
Related Link: TV Review – GLEE – Season 3 – "Heart"
Related Link: TV Review – GLEE – Season 3 – "The Spanish Teacher"
Related Link: TV Review – GLEE – Season 3 – "Michael"
Related Link: TV Review – GLEE – Season 3 – "Yes/No"
Related Link: TV Review – GLEE – Season 3 – "Extraordinary Merry Christmas"
Related Link: TV Review – GLEE – Season 3 – "I Kissed A Girl"
Related Link: TV Review: GLEE – Season 3 – "Mash Up"
Related Link: TV Review: GLEE – Season 3 – "The First Time"
Related Link: TV Review: GLEE – Season 3 – "Pot O'Gold"
Related Link: TV Review: GLEE – Season 3 – "Asian F"
Related Link: TV Review: GLEE – Season 3 – "I Am Unicorn"
Related Link: TV Review: GLEE – Season 3 premiere – "The Purple Piano Project"
Related Link: 10 Songs (or Themes) We'd Like to See GLEE tackle in Season 3
Related Link: Exclusive Interview with GLEE and GLEE PROJECT executive producer Dante Di Loreto
Related Link: Exclusive Interview with GLEE and GLEE PROJECT choreographer Zach Woodlee
Related link: The Scoop on AMERICAN HORROR STORY

Related link: AX's look at THE PROBLEM WITH GLEE – AND IT'S REAL "AGENDA"
Related link: AX's exclusive interview with KEVIN McHALE
Related link:AX's exclusive interview with HEATHER MORRIS
Related link:AX's interview with DIANNA AGRON
Related link: ASSIGNMENT X's interview with DARREN CRISS
Related Link: For more of ASSIGNMENT X's GLEE reviews and interviews

Related link: ASSIGNMENT X's interview with MATTHEW MORRISON
Related link: AX's exclusive interview with CORY MONTEITH
Related Posts: