By PETER BROWN / Associate Editor
Posted: December 12th, 2015 / 11:29 PM
Your time is short. We know this. So in order to expedite your buying and Netflix decision making, we provide you with a list of the cool and not-so-cool titles coming out for movies, television and everything in-between. So put your feet up, grab some popcorn and check out this week's selections.
Movies:
ANT-MAN – It is hard to believe that this film ever got made. I mean ANT-MAN? Sure he's the founder of the AVENGERS in the comics but outside of that what's he famous for? Beating his wife? Being an abusive husband and gigantic jerk? But it proves that Marvel isn't just relaying on its heavyweight superheroes to entertain. And maybe Marvel might be taking the most chances with a lot of its content. Bringing GUARDIANS OF THE GALAXY to film and make it amazingly entertaining. Taking a number of different franchises for TV but opting to use Netflix as the delivery system. It takes a company that is willing to risk some things for greater reward. And what a reward a very adult JESSICA JONES was on Netflix, again showing Marvel is willing to even go edgy and adult. ANT-MAN isn't a popular hero or even one that's known by a lot of people in the Marvel universe today – his character has largely been ignored for the past few years but those writing the comics. But they choose the right way to go with it by presenting Paul Rudd as the main hero and giving it a comical appeal but with strong ties to the Marvel comics universe with Michael Douglas playing the original elderly Ant-Man in Hank Pym. It shouldn't work, but it does. The storyline is fairly basic with Pym turning over his corporation to a younger, more driven dude that does anything to get his shrinking technology on the market (and selling to Hydra continuing one of the main storylines there). Pym gets Scott Lang (Rudd) to fight him and we have lots of shrinking battles. If you have enjoyed any of the previous efforts from Marvel, this one will treat you just fine.
KNOCK KNOCK – This is a cautionary tale to be weary of anyone that comes to your door despite how hot or how innocent looking they may appear. Keanu Reeves stars as a loving husband and father that invites two strange girls into his house after they say they have been stranded in a rainstorm. Of course, things don't just go along with him calling them a cab to help but turns into a one-night stand that has some serious, deadly repercussions as the girls refuse to leave the next morning and become highly violent toward everything in the house including its owner (Reeves). Eli Roth directed this so you know right away you are in for some sadistic sh** and it pays off as the two women really amp up their violence and torture to the point where lives are in danger. While there is nothing new here, the production is top-notch, the women are nice to look at, the things they do are pretty intense leading to a conclusion that is as hilarious as it is disturbing.
Television: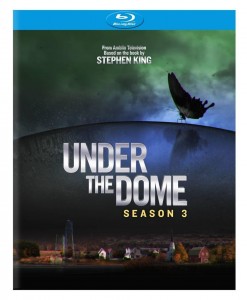 UNDER THE DOME: SEASON 3 – Show of hands, how many thought a series about a town that gets locked up in a magical dome would last three season? Yeah, me neither. Yet, it did and was highly popular for the summer seasons that it did air – naturally there isn't a lot that goes on during the summer on TV so that might have helped. Season 3 has the folks of Chester's Mill continuing to try to solve the mystery of why a large dome has encompassed their town and it only gets weirder and it may have cost the series another season as some of its hardcore fans just couldn't tolerate the shenanigans that happen this time around as it deviates a lot from the books from Stephen King. Still it did entertain some of even the highest critics that enjoyed the books as well but pushing the boundaries of ridiculousness verses science fiction proved to be its undoing. Still, if you followed the first two seasons, you probably will want to see how it ends.
Follow us on Twitter at ASSIGNMENT X
Like us on Facebook at ASSIGNMENT X
Related:
Blu-ray and DVD Reviews for the Week of  December 1, 2015
Blu-ray and DVD Reviews for the Week of Oct. 13, 2015
Blu-ray and DVD Reviews for the Week of Oct. 6, 2015
Blu-ray and DVD Reviews for the Week of September 29, 2015
Blu-ray and DVD Reviews for the Week of September 15, 2015
Blu-ray and DVD Reviews for the Week of September 1, 2015
Blu-ray and DVD Reviews for the Week of August 25, 2015
Blu-ray and DVD Reviews for the Week of August 18, 2015
Blu-ray and DVD Reviews for the Week of August 11, 2015
Blu-ray and DVD Reviews for the Week of August 4, 2015
Blu-ray and DVD Reviews for the Week of July 14, 2015
Related Posts: