By CARL CORTEZ / Contributing Editor
Posted: November 17th, 2010 / 10:56 AM
One good thing could be said for the latest, lackluster episode of GLEE. The title "Substitute" didn't result in a show choir version of The Who's "Substitute."
Now that would be too obvious for a show, that occasionally lacks in subtlety.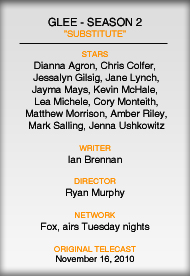 What is obvious?  "Substitute" features movie star Gwyneth Paltrow in yet another one of GLEE's throwaway episodes designed to showcase a particular concept ("The Rocky Horror Glee Show"/Britney Spears songs) or to give a guest star the full court treatment to suck away valuable screen time from the very able recurring cast.
"Substitute" isn't as bad as many episodes with this affliction, but it is annoying and troublesome – veering all over the emotional and story map with very little impact.
The episode finds Sue (Jane Lynch) taking over as Principal and installing substitute teacher Holly Holliday (Paltrow) as the new glee club teacher.
Holly's skills seem effective at first – she relates to her students, she engages them by being hip, but she's like a wayward parent with no discipline and it soon turns bad.
Meanwhile, Mr. Schuester (Morrison) is stuck at home with a really bad flu bug and has boredom sex with his ex-wife Terri (Jessalyn Gilsig) who comes over to take care of him.
When Mr. Schuester is sick, he watches the 1952 musical SINGIN' IN THE RAIN to make him feel better, so we get two iconic numbers from that. "Make 'Em Laugh," which is a fever dream featuring him and Mike Chang (Harry Shum Jr.) recreating the famous number originally done by Gene Kelly and Donald O'Connor and the finale, a remixed, hipper version of "Singin' in the Rain" with Mr. Shue and Holly taking the lead.
So where did this episode go wrong?
Paltrow is great, but her appearance detracts from the show itself and screams "stunt casting." It's great to hear her belt out a more TV friendly version of Cee Lo Green's "F*ck You," but then to hear her and the entire cast RUIN "Singin' in the Rain" made me want to bash the TV set in. There's certain songs you can update, and others, please, for the love of all that's sacred, DO NOT touch.
Storywise, the Sue Sylvester subplot was repetitive and not very interesting. The budding friendship/relationship (?) between Kurt (Chris Colfer) and Blaine (Darren Criss) results in some surprisingly bland scenes – definitely not on par with the scenes during last week's exceptional episode which introduced Blaine.
However, the return of Terri  made for some of the better moments of the episode. As much as Terri is in therapy and on medications, she's still Terri, and we missed her bat-sh*t crazy antics. Nonetheless, there was something honest, interesting and twisted in the way the two of them momentarily fell back into each others arms. It grounded Mr. Shue again, in a way we haven't seen since early on in Season One – and it's refreshing that Mr. Shue ultimately saw right through Terri immediately.
Songwise, this episode is a mess. Aside from the Cee Lo song, which is quite good in this new incarnation dubbed "Forget You" (a far better neutering than occurred with "Sweet Transvestite" in "The Rocky Horror Glee Show"), we're treated to a wholly unnecessary duet with Holly and Rachel (Lea Michele) doing their best CHICAGO routine and the aforementioned bastardized version of "Singin' In the Rain."
Morrison handles "Make 'Em Laugh" rather well – and he's got a great comic foil in Mike Chang. Please, give Shum more physical stuff to do. The kid has great comedic instincts, particularly when it comes to dance, and this a great standalone moment made even better by the unlikely pairing of Mr. Shue and Mike.
The other stand-out moment was Mr. Shue's hallucination (due to a fever) of seeing his students as little pint-size tots.
With Sectionals "two weeks away" (a statement repeated over and over again during the episode), we still don't get a sense that show choir and Mr. Schuester, for that matter, are taking it all that seriously. Where's the sweat? Where's the tears? Where's the discipline? It would be nice to see a little more work go into their peformances and planning for Sectionals!
Oh well, I guess that time needs to go into planning elaborate (and expensive) stage musicals like THE ROCKY HORROR PICTURE SHOW that no one on campus ever gets to see. With all the money Mr. Schuester is sucking out of the school to do these isolated stunts should be more than enough reason to get him fired permanently from any normal school.
AGREE? DISAGREE? LET YOUR VOICE BE HEARD IN OUR COMMENTS SECTION BELOW!

For more ASSIGNMENT X reviews of GLEE – CLICK HERE
Related Posts: