By PAUL ZIMMERMAN
Posted: June 19th, 2015 / 02:15 PM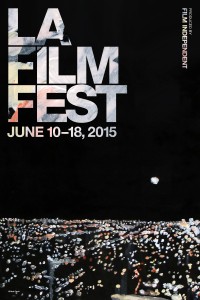 NOTE: As a film festival draws to a close I usually try to talk up as many films as possible. This year I'm trying something different, just three films, a horror comedy (THE FINAL GIRLS), a documentary (CAN YOU DIG THIS) and a teen comedy/drama (SEOUL SEARCHING). They have little to nothing in common but collectively speak to the state of indie film circa 2015.
"How great is this theater?" director Todd Strauss-Schulson yelled while introducing his film THE FINAL GIRLS in the mammoth Premiere House theater of the Regal LA Live Stadium 14. "Feel free to laugh, yell, scream and just have fun," he added.
Truth be told Todd Strauss-Schulson clearly loves old horror films. And films that move you. Which brings us to the horror comedy THE FINAL GIRLS. A meta tribute to bad 1980s horror sequels like FRIDAY THE 13TH PART IV and film in general, THE FINAL GIRLS concerns a typical group of horny teens (the nerd, the wise ass, the cynical sidekick, the jock, the virgin etc) that get stranded in a horror film.
Its tone is like GAURDIANS OF THE GALAXY, they want to make you laugh at some goofy gag one moment and shed a tear the next. Fan of CABIN IN THE WOODS and films that tip genre tropes on their cinematic heads? Boy, have I got a film for you.
At the films Q and A with most of the cast and the two writers, director Strauss-Schulson admitted the films hopscotch tone was a hard sell. "When you say its TERMS OF ENDEARMENT meets FRIDAY THE 13TH they just don't get it," he said. Oddly enough for the most part it's very clever, very funny and well crafted.
Of course it's not everyone's cup of tea and could have ended up too cute or too odd. Or as one cast member laughed, "We weren't sure what was going on when were shooting it. But it came out really good. It could have turned our really shitty!"
Co-writer Joshua John Miller admits the film is a passion project. "My dad (Jason Miller) was the priest who went out the window in THE EXORCIST," he explained, "so you might say I have horror in my DNA."
First time co-screenwriter M.A. Fortin admitted the film went through endless rewrites over the years as they sought out a perfect blend of humor, horror and pathos. One nifty idea that was deemed too over the top was having the serial killer and the virgin character fighting onto and over the end credits. "It was cool but it was too much," laughed Strauss-Schulson.
Related: L.A. Film Fest – The Winners and Grant Recipients
Related: L.A. Film Fest – Part 2 – The Crusader
Related: L.A. Film Fest – Part 3 – The Game Changer
Related Posts: