By PAUL ZIMMERMAN / Contributing Editor
Posted: June 19th, 2015 / 02:16 PM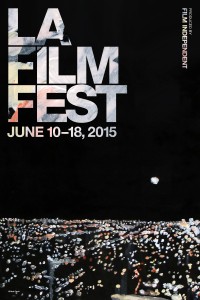 NOTE: As a film festival draws to a close I usually try to talk up as many films as possible. This year I'm trying something different, just three films, a horror comedy (THE FINAL GIRLS), a documentary (CAN YOU DIG THIS) and a teen comedy/drama (SEOUL SEARCHING). They have little to nothing in common but collectively speak to the state of indie film circa 2015.
After the gala premiere of his teen comedy SEOUL SEARCHNG writer-director Benson Lee told the audience "I was a huge fan of John Hughes and his films in the '80s except for the depiction of Asians. This country is half made up of minorities but the cinema doesn't reflect that."
SEOUL SEARCHING means to rectify that problem by making homage to smart teen comedies like John Hughes did in the 1980s by populating the entire film with Koreans. Korean Americans, Canadian Korean, British Korean and even German-Korean.
And for once there's not a token white protagonist crow bared into the mix to ease mainstream audiences into the tale like we used to see in "message" pictures like GLORY and DRY WHITE SEASON. And that's what makes it such a revelation.
Set in 1986, it's a unique comedy/drama loosely based on Lee's experiences from when he and other teens that were children of parents who had left the country after the Korean War were invited to spend the summer in Seoul to learn about their roots. "The project was abandoned after five years," Lee explained because they couldn't control the ill behaved Americans.
For better and worse SEOUL SEARCHING has all the ingredients of the Hughes angst saga: getting drunk, getting laid, the punk with the heart of gold, the tramp with the heart of gold, the erudite kid who needs to get his hands dirty etc. As such for every dramatic misfire (a poorly edited confession from the camp councilor) you get a genuine heartbreaker (an orphan girls reuniting with the mother who gave her up for adoption).
One note: The ghost of Hughes' horrific cliché character "Long Duk Dong" from SIXTEEN CANDLES is gratefully absent but what are we to make of these new cringe worthy Mexican-Korean and African American-Korean clichés played for laughs?
In between the lessons learned and past transgressions forgiven you get wall-to-wall 1980s era pop music and MEATBALLS inspired silliness. The fresh-faced cast of veterans and discoveries Lee found on FaceBook seem game. "I couldn't afford usual Hollywood casting agencies," Lee explained. You don't realize how got the ensemble is until a big dance finale when they all switch costumes and reveal new acting chops.
Throughout the screening I turned around to see the predominantly Korean audience in a state of cinematic ecstasy. The entire theater laughed and cried at all the right parts and cheered at the end. Sure, parts were formulaic and corny but for once, it was all for them.
Related: L.A. Film Fest – Part 1 – The Entertainer
Related: L.A. Film Fest – Part 3 – The Game Changer
Related: L.A. Film Fest – The Winners and Grant Recipients
Related Posts: