By PAUL ZIMMERMAN / Contributing Editor
Posted: April 4th, 2013 / 10:31 AM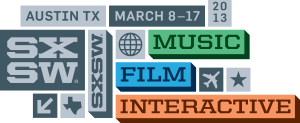 Here in the bizarro world of SXSW up is down and down is up. So is it any surprise that their film awards don't occur at the end of the festival but in the middle? Or that instead of the winners getting choked up the presenters are the ones with the cracking voices.
And so it goes in Austin Texas that on day five of a ten day film festival the awards were presented in the once posh, now just all-out retro cool Paramount Theater.
Besides the traditional best film, short and documentary prizes there is a special Texas high school short award. This year they dropped the Lone Star section of programming but make no mistake, you don't mess with Texas pride. Festival founder Louis Black is still such a pivotal force there's an award named after him and he got choked up no less than three times while introducing the show and talking about past memories and glories. Black's "Lone Star" award went to LOVES HER GUN, a provocative drama that had both gun enthusiasts and gun haters arguing.
When it came time for SXSW festival producer Janet Pierson to bring her loyal staff onto the stage she couldn't help but get emotional too. (You'd never see such a public display of honest emotion at any of the other major festival in North America.) Pierson, who assumed the position in 2009, had stressed before the festival began that the line up this year would be less deliberately edgy and more on the fun and humorous.
The winning Grand Jury Winner SHORT TERM 12 boasted heavy doses of humor and pathos, when the ensemble cast took the stage one woman couldn't stop hugging or sobbing. Other highlights included one actor slowing his walk to the stage to gaze upon his name projected on the big screen. Unlike any other festival SXSW also takes the time and effort to praise film poster design, this year's winner was the old school style illustrated KISS OF THE DAMNED.
Narrative Feature
Grand Jury Winner: SHORT TERM 12 directed by Deston Cretton
Special Jury Prize For Ensemble Cast: BURMA
Documentary Feature
Grand Jury Winner: WILLIAM AND THE WINDMILL
Short Film Jury Awards
Narrative Short: ELLEN IS LEAVING directed by Michelle Savill
Documentary Short: SLOMO directed by Josh Izenberg
Midnight Short: THE APOCALYPSE directed by Andrew Zuchero
Animated Short: OH WILLY directed by Emma De Swaef & Marc James Roe
Music Video: STAMINA by Vitalic, directed by Saman Keshavarz
Texas High School Short: THE BENEFACTRESS directed by Alina Vega
SXSW Film Design Awards
Excellence in Poster Design: Akiko Stehrenberger, KISS OF THE DAMNED
Excellence in Title Design: Pablo González, JOVEN & ALOCADA
SXSW Special Awards
Chicken & Egg Narrative Woman Director Award: Hannah Fidell, A TEACHER
Louis Black 'Lone Star' Award: Geoff Marslett, LOVES HER GUN
Related: Festivals: The Scoop on SXSW 2013 – Part 2
Related: Festivals: The Scoop on SXSW 2013 – Part 1
AGREE? DISAGREE? LET YOUR VOICE BE HEARD – COMMENT BELOW
Follow us on Twitter at ASSIGNMENT X
Fan us on Facebook at ASSIGNMENT X
Related Posts: