By PAUL ZIMMERMAN / Contributing Writer
Posted: March 17th, 2013 / 01:07 PM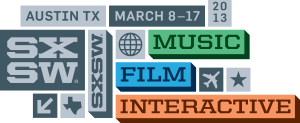 Listen up film festival cowboy and cowgirls, if this is your first time at the film festival rodeo they call SXSW (South By South West) you need to know a few things…
1) It's not really one festival, it's three. Film. Music. Interactive. And they overlap, overplay and overload. Film runs March 8th-12th, Interactive from the 8th-12th and Music from the 12th-17th.
2) The main events are held on the fabled sixth street where theaters and music halls collide with bars and restaurants.
3) There isn't one convention center there's two and they're separated by a river.
4) Austin, the capital of Texas has a motto; "Keep Austin Weird." Hippies, hipsters and fringe life dwellers coexist beside cowboys and liberals. In other words, this ain't your usual Texas locale (stories of Houston and Dallas denying it's existence and wanting Austin to secede from the Union are frequent).


It began twenty years ago with just the music. All kinds of music. Rock. Rap. Country. And everything in-between. It got big fast and they added a film festival that was more of a tag-a-long than a standalone. Because local filmmakers like Richard Linklater and Robert Rodriguez made it big in Hollywood and chose to still based their operations out of Austin they remain local heroes.
At no time can you forget you are in Texas. There's barbecue everywhere and Shiner beer at every theater. The Alamo Drafthouse, the main theater chain in Austin, started with a single theater that prided itself on showing all kinds of whacked out films, serving food and booze during the showings (years before the advent of the boutique theater) and even got Quentin Tarantino to curate half a dozen mini film festivals called The QT Fest for short.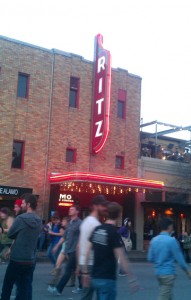 The Drafthouse has now gotten into film distribution (FOUR LIONS and KLOWN) and the franchise business (Denver, Seattle and soon, Silverlake in California). They famously made the national news with their strict no texting, no cellphone policy. After a woman was kicked out in 2011 she left an angry voice mail that was later animated on YouTube (it's had almost three million views http://www.youtube.com/watch?v=1L3eeC2lJZs).
This year each screening began with a warning that not only was texting and cell phones not allowed they also wouldn't put up with planking, Gangnam Styling, sexting, Harlem shaking or any other kinds of nonsense. And after the friendly warning they added WE'RE NOT JOKING.
SXSW audiences are famously enthusiastic and open minded. Meaning they'll just as soon hoot and holler for a European art as well as as something like 1975s SWITHCHBLADE SISTERS by Jack Hill. And they're not PC, that's for damned sure; in the middle of his PR problems Mel Gibson premiered his film APOCALYPTO to enthused Austin audience.
This year they went stark raving bonkers for the EVIL DEAD remake and Harmony Korine's subversive take on the teen movies, SPRING BREAKERS. Never mind that both would open within a few weeks of the festival premiers, they lined up for hours before the showings and yelled and clapped from start to finish.
The night before the festival began the Texas Film Hall of Fame Awards were held at the Austin Studios to honor Texas natives who'd hit the big time. Tarantino presented Richard Linklater's 1993 film DAZED AND CONFUSED with an award, calling it the best film of the 1990s. DAZED cast members accepting the award included Joey Lauren Adams, Christin Hinojosa, Marissa Ribisi, Michelle Burke Thomas and Wiley Wiggins.
Rob Reiner presented to Robin Wright, calling her "the most beautiful girl in the land," a reference to when they'd worked together on Princess Bride. Sissy Spacek presented to Henry Thomas, revealing that Thomas had auditioned for her film RAGGEDY MAN before he'd appeared in E.T.
COMING UP IN PART 2: How can Al Gore, Clive Davis, Jim Carrey, Snoop Lion, Iggy and the Stooges and Justin Timberlake all coexist in one town at one time?
Related: Festivals: The Scoop on SXSW 2013 – Part 2
Related: Festivals: The Scoop on SXSW 2013 – Part 3
AGREE? DISAGREE? LET YOUR VOICE BE HEARD – COMMENT BELOW
Follow us on Twitter at ASSIGNMENT X
Fan us on Facebook at ASSIGNMENT X
Related Posts: