By PAUL ZIMMERMAN / Contributing Editor
Posted: March 21st, 2013 / 08:12 AM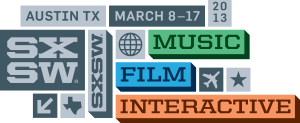 With three festivals occurring simultaneously (film, music and interactive), it would be sheer madness to try and drive around downtown Austin Texas during SXSW. That leaves taxi cabs, pedicabs and the bus. Cabs can be tricky, pedicabs are known to overcharge, but for two bucks you can ride any Austin bus as many times as you want for 24 hours. And on the buses you meet the most interesting denizens.

Two days into the festival I found myself on a northbound bus headed home. An older cowboy got on, sat opposite me and started giving me his opinion of the Austin rodeo, another event in town that week. "It's gay," he said. "Anything other than an East Texas rodeo is gay."
He then bragged about the big rodeo stars he'd worked with. When he didn't seem to be getting any reaction from me he rolled his eyes and then catching sight of my SXSW tote bag slapped his thigh, leaned forward and said in a low tone, "Oh I get it, you're here for the shenanigans!" I nodded as he switched gears, "I worked for Robert Rodriquez on SIN CITY. Built a whole set. Didn't really like the film but Rodriquez has been good to Austin."
Feature films come and go, the real discoveries these days at film festivals are the documentaries. I saw a pack of them, many that were created with the aid of KickStarter, here's some highlights.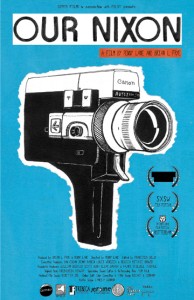 OUR NIXON
Fascinating and often funny (in a bitter, looking back kind of way), documentary assembled entirely from home movies that were shot by two of President Richard Nixon's closest confidants. By combining the silent films with audio from the tapes Nixon secretly recorded in the Oval Office we get the most human and humbling portrait of the disgraced President to date.
F*** FOR FORREST
Here's a new one. A Berlin based NGO that raises money for charities by selling home made porno films. Hardly the titillating entertainment SXSW viewers hoped for, instead they ran screaming for the exits when then consumption of human liquids reached a gagifying high.
MILIUS
John Milius (APOCALYPSE NOW, CONAN THE BARBARIAN) remains the among the most celebrated and controversial screenwriter-directors of his generation. While he gave us some of the most memorable lines in cinema history, ("Do you feel lucky, punk" and "I love the smell of Napalm in the morning"), his Zen-Anarchist AKA armchair warrior stance has often confused and contradicted. But he's never been boring. Directors Zak Knutson and Joey Fiqueroa get it right by getting the talking heads we know and want: Spielberg, Scorsese, Schwarzenegger, Coppola, Lucas etc.
CONTINENTAL
Director Malcolm Ingram completes his gay trilogy (the first two were SMALL TOWN GAY BAR and BEAR NATION), with this engrossing look at the notorious gay bath house that scandalized NYC from 1968-76. Fast, furious and genuinely  heartfelt, at the center of the story is the Continental's founder Steve Ostrow who's story is better than fiction. As the club added dance floors and live shows it set the template for Studio 54, Plato's Retreat and launched the musical careers of Bette Midler and Barry Manilow. A surprisingly warm look back at more innocent times.
 
REWIND THIS
The VHS revolution of the 1980s is celebrated by interviewing a multitude of videotape fans from around the country talking in front of their mountains of stacked tapes. While they will admit it was an inferior product they just can't stop talking about films like BLOODSUCKING FREAKS and BASKETCASE. REWIND THIS is fun stuff that overstays its welcome by about 15 minutes.
WILLIAM AND THE WINDMILL
Story of William Kamkwamba, a Malawian man who builds a windmill from junk parts to power his impoverished world. Much more than a pat feel good film, WILLIAM addresses a number of issues and rightly won the the festival's grand jury prize.
Related: Festivals: The Scoop on SXSW 2013 – Part 3
Related: Festivals: The Scoop on SXSW 2013 – Part 1
AGREE? DISAGREE? LET YOUR VOICE BE HEARD – COMMENT BELOW
Follow us on Twitter at ASSIGNMENT X
Fan us on Facebook at ASSIGNMENT X
Related Posts: