By SONIA MANSFIELD / Columnist
Posted: May 15th, 2011 / 11:08 AM
I've got a lot of snark that I need to unload on you people, so let's just get right to it, shall we?
• Oprah has confirmed that Will Smith and Jada Pickett Smith will be guests on her final show on May 25. I assume the final show also includes a time machine that takes everyone back to 1997 when this would have been awesome.
• Bristol Palin stepped out last week with a whole new face.However, she is claiming she didn't have plastic surgery. She had "corrective jaw surgery." And just in time for her new reality show. By the way, saying you didn't have plastic surgery, but corrective jaw surgery is the equivalent of when celebrities check into rehab, not for drug abuse, but for "exhaustion."
• Fox canceled a gaggle of shows this week, including HUMAN TARGET, LIE TO ME, THE CHICAGO CODE, TRAFFIC LIGHT and the Christian Slater sitcom, BREAKING IN. Yet AMERICAN DAD and THE CLEVELAND SHOW were renewed. See, America, Fox hates us. As if Fox News wasn't proof enough of that.
• Conservative talking heads are claiming that GLEE is all about promoting the gay agenda. I, on the other hand, am more concerned that ENTOURAGE is promoting a douche bag agenda. Don't even get me started on the spoiled bitch agenda promoted by those REAL HOUSEWIVES shows or the "sitcoms don't need to be funny" agenda of RULES OF ENGAGEMENT.
• Cheslea Handler, who hosts a talk show on E! (I know, I had to look her up, too) went on THE JOY BEHAR SHOW and said that she will never apologize for calling Angelina Jolie a homewrecker and the dreaded c-word. Thanks for clearing that up, Cheslea. Meanwhile, Angelina Jolie in at the Cannes Film Festival promoting her newest movie and has no idea who you are.
• Hey, did you know there is something called the DAYTIME EMMYS? I know, right? Me neither. There is a category called "Outstanding Legal/Courtroom Program" and DIVORCE COURT is nominated. That's right, folks: The Emmy-nominated DIVORCE COURT.
• After four seasons of will they or won't they, NBC has decided they will renew CHUCK for a fifth season. Honestly, I was kinda hoping they would cancel it because I'm so sick of reading the same damn stories every year about whether or not they are going to cancel it.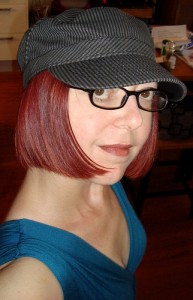 Sonia Mansfield likes to talk smack, make nerdy STAR WARS references and feed her unhealthy obsession with pop culture. Make sure you follow her on Twitter for constant updates or check out her blog, The Sonia Show.

Related Posts: