By ARNOLD T. BLUMBERG / Contributing Editor
Posted: November 22nd, 2010 / 12:30 AM
In the latest episode of AMC's great new zombie series THE WALKING DEAD, Rick (Andrew Lincoln) takes a team back to the city to check on Merle and retrieve that desperately-needed bag of guns while the rest of the camp reacts to Jim's strange grave-digging behavior. Has the man become a prophet, dreaming of death amongst the survivors, and if so, who in their little party will suffer a horrible fate before the day is out? And is Rick really just like a certain whip-wielding archaeologist, incomplete without his trusty hat?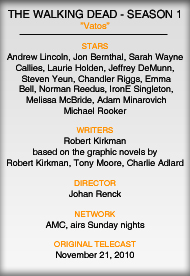 "Vatos" inevitably draws added scrutiny as it's the single installment (this year, anyway) scripted by THE WALKING DEAD comic book creator himself, Robert Kirkman. The characters, the setting, the narrative drive – all of these and more should theoretically ring truest to the source material with Kirkman holding the reins.
But it's not as simple as that, since Kirkman not only has a lot of TV-specific characters to deal with, he also has to introduce a few more, and initially they seem like thinly-defined clichés in the form of a Latino gang that causes Rick and Co. more trouble than the "walkers." Just when a series perfectly situated to explore themes like racism looks close to flirting with being racist itself, the plot takes an unexpected and very welcome turn.
Kirkman demonstrates why he was the man to chronicle the zombie apocalypse that never ends by finding shades of gray in everyone's personality. He also continues to examine the intriguing notion that bereft of their pre-apocalyptic roles, people have the opportunity to rise or fall to their purest state. In any world, though, it seems Rick is well suited to wearing a badge…and hat.
In addition to the gang and their unusual story, Merle's brother Daryl shows a softer side as he stands by Rick in a crucial moment; perhaps there's room for this crossbow-wielding hick yet. We also get some additional insight into the lives of sisters Andrea and Amy, more back story on poor Jim, and even the now zombie-esque wife-beating Ed gets much needed closure. Well, if you can call that closure (you'll see). You'll probably enjoy it too. As for Glenn, he once again proves to be the group's premiere strategist, and the revelation of his former career is as amusing as it is completely logical given his skills.
There is however a "running in place" feeling to the plot this week as we go on a second return trip to downtown Atlanta, but a lightning-fast shift in tone in the final act more than makes up for it. After taking most of its time throwing a spotlight in turn on most of the members of this ensemble, the episode suddenly descends into unbridled horror with an attack on the survivors' camp that not only delivers on action and gore – as well as reinforcing the idea that no one in the cast is safe – but neatly bookends the serenity of the opening scene. To be fair, anyone that's seen more than a few TV shows should be able to tell exactly what will happen at the end by noting that opening conversation – a quiet rumination on the merits of dry or wet fishing lures – and the two characters having it.
There are some nice dialogue touches from Kirkman too, from the truth about Guillermo to Dale's paraphrasing of Faulkner. Although there are some deft turns of phrase throughout, there are certainly lots of folks just watching for the next big zombie attack rather than sensitive character development and an ongoing analysis of the human condition. Fortunately, the series has everyone covered this week, so no viewers are likely to be disappointed.
With only two episodes left and a rumored trip to the CDC yet to come, will we find out anything about the nature of the apocalypse, and what threats will the survivors face before saying goodbye to us for  a whole year? And where is Merle? And has Jim developed psychic powers? So many questions! Stay tuned!
Related Posts: