By CARL CORTEZ / Contributing Editor
Posted: November 16th, 2010 / 10:07 AM
After the last episode of CHUCK, where our intrepid titular character (Zachary Levi) had the Intersect scrambled by his double crossing spy mother (Linda Hamilton), we get an episode focused on Chuck trying to get the Intersect back online.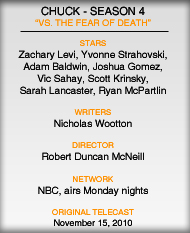 With "The Fear of Death," CHUCK finds the show finding its comedic rhythm again and opening the story up even wider than before.
The episode is aided by guest star Rob Riggle who plays the hilarious agent Jim Rye. He's a master at psy-ops, and understands what it will take to repair Chuck's Intersect in his brain (namely fear).
However, everything Rye does, fails miserably – Chuck can't get the Intersect up. And when he goes on a dangerous mission in Switzerland – with Rye and no back-up from Sarah (Yvonne Strahovski) or Casey (Adam Baldwin) – he ends up being taken hostage by baddie Adelbert De Smet (Richard Chamberlain).
What Riggle adds to the episode is something that has been missing from guest stars as of late – a sense of humor. He's excellent as he tries to find crazier ways  to help Chuck – and his spy techniques aren't too shabby either. There's an instant rapport between him and Levi  – and it's a shame his character is killed off in this episode, because I would have loved to see him back for more (though this being CHUCK, no one is ever, truly dead).
The other funny subplot involves the character called Greta (played this week by TERMINATOR/FIREFLY/ DOLLHOUSE star Summer Glau). She's a spy who works at the Buy More, and throughout the season, the character has been played by a bunch of different actresses. When Lester (Vik Sahay) and Jeff (Scott Krinsky) suspects there's more to her (Jeff claims she has a tail), the potential for the Buy Moore's secret agent home base could be blown.
The pay-off is a little bit of a letdown (Greta is let go), but it's nice to see Glau playing the latest Greta incarnation. I really hope they pay off this character later on this season (there are hints that she may be a shapeshifter). It's been a fun, background joke, but clearly there's more to it than this.
By episode's end, Chuck has been kidnapped and the team has to reassemble to find him. Sarah in particular, has to not only save Chuck, but also repair the damage she caused by saying he's not a real spy unless he has the Intersect in his head. Finally, after a season of silly fights and relationship woes between Chuck and Sarah, the writers latch on to something real, that actually intersects (pardon the pun) naturally with the story's core concept.
"Vs. The Fear of Death" is a great episode – funny, action-packed and filled with wonderfully quirky character moments. I hope this is the beginning of a brand new arc that finally wrestles CHUCK out of its Season Four malaise.
Related Posts: