By SONIA MANSFIELD / Columnist
Posted: March 24th, 2011 / 08:32 PM
Last week, I tried to get happy, but it didn't stick. This week I'm back to my snarky self. I blame it on the fact that there wasn't a new episode of GLEE this week, and the only female chef was eliminated on TOP CHEF, making it yet another all-male finale. Every season that show serves up tasty sexism and I eat it right up … So anyway, let's get started:
* According to TMZ, AMERICAN IDOL finalists have moved out of the IDOL mansion due to paranormal activity. I hear the place is haunted by the ghost of Taylor Hicks' career.
* After being asked approved-by-him questions about Rihanna, Chris Brown trashed his GOOD MORNING AMERICA dressing room. In a statement, the singer said the room asked for it.
* Speaking of douchebags who like to beat up women … Charlie Sheen is shopping a book around. The working title is "Charlie and the Cocaine Factory."
* Justin Bieber is just one of the many artists appearing on a Japan benefit album. Hasn't Japan suffered enough?
* Actress Sienna Miller has started dating actor Tom Sturridge. Of course, it won't last long. He's missing that one thing that really makes it work for her: A wife.
* NBC has canceled Olivia Munn's sitcom PERFECT COUPLES. In a related story, Olivia Munn was on a sitcom called PERFECT COUPLES.
* Lindsay Lohan rejected a plea deal in her shoplifting case, which means it's going to trial. Meanwhile, her father, Michael Lohan, has been charged with domestic violence for beating up his girlfriend. Maybe Los Angeles County could set up a daddy-daughter cell.
* You know, between Michael Lohan, Charlie Sheen, Chris Brown and Mel Gibson, domestic violence is the new black for 2011. Damn that domestic violence, it's so hot right now.
*Corey Feldman is totally pissed and has vowed to get back his leather jacket that was stolen from a night out at the House of Blues in Hollywood. Come on, guys. Give Corey back his jacket. It's the only one he's got, and it's cold outside!
* BOARDWALK EMPIRE actress Paz de la Huerta was arrested after throwing a glass at Samantha Swetra, star of MTV's reality show THE CITY, and punching her in the face. Basically, she was arrested for doing what a lot of us want to do to MTV reality show stars.
* JACKASS star Bam Margera got punched out by a woman at South by Southwest this weekend after he made fun of her friend's weight. I don't really have a joke here. I just think it's hilarious that some woman punched out Bam Margera.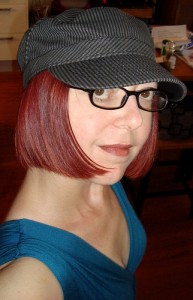 Sonia Mansfield likes to talk smack, make nerdy STAR WARS references and feed her unhealthy obsession with pop culture. Make sure you follow her on Twitter for constant updates or check out her blog, The Sonia Show.

Related Posts: