By SONIA MANSFIELD / Columnist
Posted: March 17th, 2011 / 10:21 AM
There is a lot of bad news right now. I think we could all use a little cheering up, so I've composed a list of things that we can be all be happy about:
There's no law that forces us to watch CELEBRITY APPRENTICE … yet.
Celebrities will always film themselves doin' it and take naked photos of themselves, and act shocked and embarrassed when they are "leaked" to the media, giving us things to stealthily look at and read about while we pretend to work in our cubicles.
Carson Daly's LAST CALL has been renewed for an 11th season, pleasing tens of fans.
ABC has renewed THE BACHELORETTE and THE BACHELOR for seasons 16 and 17, respectively. The contestants on these shows are creepy mental cases, and it's great that they are in front of television cameras so we can keep on eye on them.
GAME OF THRONES starts April 17 on HBO. Just sayin'.
Eventually, Charlie Sheen will go away. Don't believe me. Remember when Paris Hilton was all over the media? Those of you who just thought, "What's a Paris Hilton?" just proved my point.
Are you watching PARKS & RECREATION and COMMUNITY? Well, you should be. They are a television rarity: a funny sitcom.
At least you're not Jodie Foster, who made the poor decision of casting actor-director-turned-professional-psycho Mel Gibson in her upcoming movie. Now she has to do interviews sticking up for him. Gross.
A theater showing MARS NEEDS MOMS is a great place to spend some time alone with your thoughts. Just a little tip from your friendly neighborhood Internet columnist.
You know what no one talks about anymore? HIGH SCHOOL MUSICAL. Awesome, right?
Fox still hasn't created a show called GONORRHEA ISLAND, in which a bunch of stupid, drunk horny people are put on an island and one of them has — you guessed it — gonorrhea. In the final episode, everyone gets tested with the winner being the one who doesn't have a sexually transmitted disease. MTV has come close to this show idea with several installments of THE REAL WORLD and JERSEY SHORE, but they are holding back.
Hey, if your life isn't being filmed right now for a TLC reality show then you're doing pretty damn good.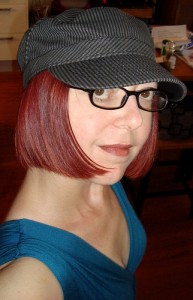 Sonia Mansfield likes to talk smack, make nerdy STAR WARS references and feed her unhealthy obsession with pop culture. Make sure you follow her on Twitter for constant updates or check out her blog, The Sonia Show.

Related Posts: