By SONIA MANSFIELD / Columnist
Posted: January 27th, 2011 / 11:01 AM
"It's a trap!"
"I have a strange feeling about this."
"Never tell me the odds."
"Search your feelings, you know it to be true!"
"All too easy."
"But I was going into Tosche Station to pick up some power converters!"
I think half of the things I say on a daily basis are from a STAR WARS movie.
Recently, some cool bloggers in my town wrote about movie quotes that have worked themselves into their everyday lives.
I repeat a lot of movie quotes throughout the day.
For example, "I am Jack's complete lack of surprise" from THE FIGHT CLUB. I usually say it when I hear that one of my friends have done something horribly assy or when I do something horribly assy.
Another one: "Human sacrifice, dogs and cats living together… mass hysteria!" from GHOSTBUSTERS. I use it like this, "I went to grocery store, and it was crazy in there. Human sacrifice, dogs and cats living together… mass hysteria!"
OK, one more: "Aw, come on, guy. I can change" from SOUTH PARK: BIGGER, LONGER & UNCUT. I say it to my husband when he points out that I'm hogging the TV … again or that I'm talking solely in movie quotes … again.
Of course, I could write an entire column about the movies quotes that I say everyday, but I thought I'd ask around and see what movie lines my friends use.
Pretty much every day in her office my good buddy Corso says, "I feel like I'm taking crazy pills" from ZOOLANDER.
"The dishes are done, man!" from DON'T TELL MOM THE BABYSITTER'S DEAD. The fabulous Kate says this whenever she completes a big pain-in-the-ass project.
Whenever my office buddy Paul blasts through a yellow light in his car he says, "Punch it, Bishop" from ALIENS.
Speaking of ALIENS, I don't know how many times I've heard my sister Michelle say, "Game over, man! Game over!" She applies it to any situation in which you should just give up, including clothes shopping.
My friend Kirk is a man after my own heart, quoting GHOSTBUSTERS: "It's true. This man has no penis."
Good buddy DH says, "Nobody puts baby in a corner," from DIRTY DANCING when someone talks about a situation at work in which they weren't recognized for their hard work or when a girl talks about guy telling her what to do.
My brother-in-law Tony is a real man, which means he quotes CADDYSHACK. "So I got that going for me, which is nice." He says it whenever things are not going his way.
One of my friends loves to quote THE BIG LEBOWSKI whenever he is having "a stoner moment." Lebowski: "You don't go out looking for a job like that do you? On a weekday?" The Dude: "Is today a … what day is it?"
Assignment X's very own Peter Brown (who is always Master P or P Biddy to me) loves to quote MAD MAX BEYOND THUNDERDOME: "Two men enter, one man leaves." He applies it to everything: food, celebrities, AMERICAN IDOL contestants, etc.
"Be excellent to each other," from BILL & TED'S EXCELLENT ADVENTURE is Tiffany's go-to toast and weddings and get-togethers.
In a whiny voice when someone gets a package, my friend Aaron says: "What's in the box?" from SE7EN. Sadly, the answer is never "Gwyneth Paltrow's head."
What are your favorite movie quotes that have worked their way into your everyday life? Share them in the comments below or on our Facebook page.
For more THE DORK SIDE columns, CLICK HERE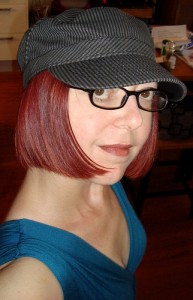 Sonia Mansfield likes to talk smack, make nerdy STAR WARS references and feed her unhealthy obsession with pop culture. Make sure you follow her on Twitter for constant updates or check out her blog, The Sonia Show.

Related Posts: