By SONIA MANSFIELD / Columnist
Posted: April 7th, 2011 / 10:49 AM
Of course, the big news this week is that I'm knocked up.
Yes, The Dork Side is going to have a spawn. I blame MTV's TEEN MOM. They make it all look so glamorous.
I do not foresee this whole pregnancy thing affecting The Dork Side. Maybe I'm wrong. Perhaps a year from now this column will be all about YO GABBA GABBA and SESAME STREET.
In the meantime, it's time to let the snark out of her cage:
* I guess there is no such thing as bad publicity. Singer-turned-violent-douchebag Chris Brown's album debuted at No. 1 on the Billboard charts. To celebrate, Brown bought a house and trashed it.
* Glenn Beck is leaving his Fox "news" show by the end of the year. Great. One down, an entire network to go.
* The Grammys are dropping some categories, reducing the number from 109 at the last awards show to 78. How can they limit it only 78? Of course, the only people who will care about these changes are the same people who know the difference between Song of the Year and Record of the Year.
* Have you ever watched WATCH WHAT HAPPENS LIVE on Bravo with Andy Cohen? I just watched it for the first time on Wednesday after the TOP CHEF finale, and Andy Cohen needs to stop breathing, like, right now. He's obnoxious and seriously unfunny. He's just about the worst thing I've ever seen, and I saw some horrible things when I fought in 'Nam. OK, I didn't really fight in Vietnam, because I wasn't even born yet, but I did see all those movies and it looks like it was really terrible.
* HBO canceled IN TREATMENT. Wait, what? IN TREATMENT was still on?
* Natalie Portman's dancing double claims that Portman only did 5 percent of the dancing in BLACK SWAN. The director says that is false and that Portman did 80 percent of the dancing in the movie. Does it matter? I'm pretty sure she did 100 percent of the acting in the movie.
*And speaking of people who don't really do their own stunts … "Singer" Britney Spears announced that she is going on tour this summer to promote her new album. Yes! I love playing $60 a ticket plus surcharges to watch someone lip sync.
* Miley Cyrus returned to Twitter just so she could follow Charlie Sheen. In a related story, Miley Cyrus is an idiot.
* Did you know there's a reboot of TOTAL RECALL in the works? If you are going to reboot Arnold Schwarzenegger movies, why don't you start with the bad ones? JUNIOR anyone? Anyone?
* Both Matt Lauer and Meredith Viera are making plans to leave TODAY. Well, great, now who I am not going to get up early to watch make inane chit-chat?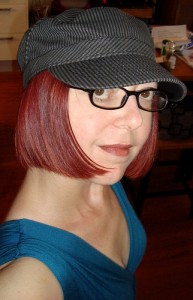 Sonia Mansfield likes to talk smack, make nerdy STAR WARS references and feed her unhealthy obsession with pop culture. Make sure you follow her on Twitter for constant updates or check out her blog, The Sonia Show.

Related Posts: