By SONIA MANSFIELD
Posted: February 17th, 2011 / 09:45 AM
Charlie Sheen is a douche, and I don't really care if he gets help.
Yeah, I said it.
I find it disturbing that this country is so willing to embrace the drug-fueled antics of a thrice-divorced, woman abusing, alcohol and drug addict, while at the same time show almost no sympathy for a young woman, raised by jacked-up, addict parents with dollar signs in their eyes. Seriously, in some ways, Lindsay Lohan never had a chance.
Look, now don't get me wrong, I'm no Lindsay fan. Still, I'm curious as to why Charlie Sheen gets a free pass and Lindsay Lohan doesn't. Charlie Sheen has had every opportunity to get the help he needs and get better, but he continues to spit in recovery's face.
Have you read the comments on the stories about Charlie Sheen? Most of them are along the lines of "Get better, Charlie," "I really hope he gets the help he needs," and "Who cares what he does off screen? It's is work performance that I care about." Some people even go as far as to call him a party hero.
Meanwhile, the comments on Lindsay Lohan stories are of the "I hope that spoiled brat dies" variety. "She needs a wake-up call." "She's a train wreck." "I don't feel sorry for her. She's a waste of space."
People talk about Charlie Sheen like he is some lovable scamp. "He's just a guy who likes to party. What's wrong with that?"
Well, first of all, he's not a lovable scamp. He's a 45-year-old man with five kids (that he knows about … am I right, folks?). He's been to rehab multiple times, yet he continues to drink booze, do drugs and stick his thang in every porn star in the country.
And, let's not forget the physical abuse of women.
In 1990, his then-fiancee Kelly Preston tried to break up with him, and he responded by shooting her in the arm. In 2005, his second wife Denise Richards filed for divorce while pregnant with their second child, accusing him of drug and alcohol abuse as well as threatening her with violence. His most recent victim, I mean wife, Brooke Mueller had him arrested on charges of domestic violence and second-degree assault. Surprise! They are divorced now.
Last year, the police removed Charlie Sheen from his suite at the Plaza Hotel after he had reportedly caused $7,000 in damage. There was a porn star hiding in the closet, and she reported that Charlie Sheen had been abusive and put his hands around her neck to choke her. What a ladies man!
That's right, everyone! Charlie Sheen is a triple threat: an alcoholic, a drug addict and a domestic abuser. He's the whole package.
Yet, he continues to get off with a slap on the wrist, and a majority of this country still adores him. I don't get it. Is everyone hoping for another HOT SHOTS sequel?
On the flip side, Lindsay Lohan isn't married. She doesn't have any kids. In fact, unless she's behind the wheel of a car, she really isn't hurting anyone.
Is the accountability discrepancy between Charlie Sheen and Lindsay Lohan sexist? Is it because Lindsay Lohan is a woman that people hate her so much for doing things that, quite honestly, are not nearly as bad as what Charlie Sheen does? Why do people wish for Charlie Sheen to get better and in the same breath wish Lindsay Lohan to fail?
Does starring in a successful sitcom (and I use that term loosely. TWO AND A HALF MEN is all situation and no comedy if you ask me) mean you can do whatever you like and America will still love you for it?
Now Charlie Sheen is saying he wants to talk to Lindsay Lohan and give her advice. Unless he's giving advice on how hit a woman or how to bang a porn star, maybe he should keep his advice to himself.
Actually, I imagine his advice sounds like this: "Grow a penis and star in a crappy sitcom and America will forgive you."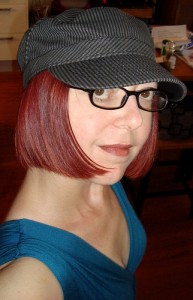 Sonia Mansfield likes to talk smack, make nerdy STAR WARS references and feed her unhealthy obsession with pop culture. Make sure you follow her on Twitter for constant updates or check out her blog, The Sonia Show.

Related Posts: