By SONIA MANSFIELD / Columnist
Posted: April 29th, 2011 / 12:34 PM
I know that everyone is wetting their knickers over the Royal Wedding of Prince William and Catherine Middleton, but I couldn't be more indifferent. The only way I could care less is if you told me that Train is going to be the band at the reception.
Does this mean I have to hand over my chick card? My chick card is about to expire anyway. I was going to make an appointment at the Department of Chicks and Broads, but I'm afraid if I go down there they will take it away from me, or make me take the written test, which can be really difficult to pass if you don't study for it. For example, I have no idea what happened last week on GREY'S ANATOMY.
What if I told you that I really like to go shopping? What if I admitted that sometimes my life is closer to a CATHY comic strip than I would like to admit? That reminds me … it's almost bathing suit season. AAAACK!
So anyway, here is this week's Dork Side, and other than the above paragraphs, it's almost royal wedding free. You're welcome!
Arnold Schwarzenegger has signed on for another installment in the TERMINATOR franchise. OK, put aside the fact that the world needs another TERMINATOR movie like it needs another Right Said Fred album, at 63 isn't Arnold getting a little too old for this crap? "Run John Connor! Go on without me! I've fallen and I can't get up!"
So, I'm pretty sure Donald Trump is going to be president now, because BLOSSOM star Joey Lawrence and professional weirdo Gary Busey have endorsed him. Hey, I know what you're thinking, and yeah, I thought those guys were dead, too.
Bradley Cooper, haaaaaa, is in talks to star, wahahahahaha, in a remake of THE CROW. HAAAAAAAAAA! Oh wait, they're serious? Well, maybe they could get Nickelback to do the soundtrack while they're at it.
Lindsay Lohan got a standing ovation during her appearance on THE TONIGHT SHOW. To be fair to Jay Leno's moronic fans, Lohan did manage to make it across the stage without stealing or snorting anything. Very impressive.
Dear Food Network: Enough with the cake shows already. Sincerely, The World
Not to get all religious on you, but the fact that there is another FAST AND FURIOUS movie (FAST FIVE) is proof that god doesn't exist.
Why does People Magazine keep reporting on the comings and goings of LeAnn Rimes? I think the last hit song she had was on the CON AIR soundtrack. LeAnn Rimes is about as relevant as Tori Spelling, another "star" that People Magazine seems to think we all care about. How do you even have time and space for Rimes and Spelling? Don't you have a Royal Wedding to beat us over the head with.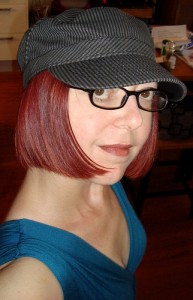 Sonia Mansfield likes to talk smack, make nerdy STAR WARS references and feed her unhealthy obsession with pop culture. Make sure you follow her on Twitter for constant updates or check out her blog, The Sonia Show.

Related Posts: