By SONIA MANSFIELD / Columnist
Posted: June 3rd, 2011 / 09:22 AM
Why do celebrities keep taking naked photos of themselves? They know they are going to get leaked on to the Internet, right?
Considering how many celebrities' naked photos and sex tapes have been "leaked," why even risk it?
"Yes, I know it happens to celebrities all the time, but it won't happen to me [click]."
I don't take naked photos of myself for fear that they would be leaked on to the Internet, and I'm not famous, and no one wants to see me naked. If someone other than my husband wants to see me naked then they are going to have to do it the old fashioned way: by becoming a top-notch peeping tom or pretending to be a doctor.
I figure that celebrities take naked photos of themselves because they want them to get leaked. It's obvious, right? It's really the only explanation – they are not fooling anyone.
I mean, why else do the photos always seem to come out before their new movie opens? Is it a coincidence that nude photos of Blake Lively have popped up on the Internet a few weeks before her new movie, THE GREEN LANTERN, opens? If you believe that it's a coincidence, then I have some tickets to THE GREEN LANTERN I'd like to sell you, because you will probably think the movie is really, really good – the best superhero movie you've seen since THE GREEN HORNET.
It's sad that actual working actresses (and I use that term loosely) like Blake Lively or Vanessa Hudgens feel they have to stoop to nonworking, professional tabloid fodder Kim Kardashian or Paris Hilton levels to get attention and generate a little publicity for their next project.
Go ahead, celebrities, and have your people claim the photos are fake, but you are not fooling anyone.
AGREE? DISAGREE? LET YOUR VOICE BE HEARD – COMMENT BELOW
Click on link for more THE DORK SIDE columns

Follow us on Twitter at ASSIGNMENT X
Fan us on Facebook at ASSIGNMENTX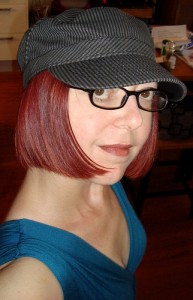 Sonia Mansfield likes to talk smack, make nerdy STAR WARS references and feed her unhealthy obsession with pop culture. Make sure you follow her on Twitter for constant updates or check out her blog, The Sonia Show.

Related Posts: