By SONIA MANSFIELD / Columnist
Posted: February 24th, 2011 / 02:36 PM
I'm sorry, but I couldn't limit my ranting to just one subject this week. There are just too many things that make me ranty.
Dancing with the Polarizing Political Figures
Professional witch-denier and all-around dummy Christine O'Donnell says she has been approached to be on ABC's DANCING WITH THE STARS. In a related story, I'm going to file a class action suit against ABC for claiming that this show features stars.
Christine O'Donnell? Really? What, you couldn't get Michael Vick? ABC, have you thought about asking Ben Roethlisberger? If you are lucky, he might even rape one of your dancers. Imagine the publicity!
This Is Not News

Dear News Media: You what is not news? Justin Bieber getting a haircut. You're welcome. Sincerely, The Dork Side.
Obligatory Oscar Rant
The Oscars are on Sunday. I would love to write a whole column about it except I still haven't seen THE KING'S SPEECH, so basically I would just be making it up. Besides, I'm still upset that SCOTT PILGRIM VS. THE WORLD wasn't nominated for anything.
People are saying if THE KING'S SPEECH wins Best Picture, it is just another example of the "cool" film losing to something boring and safe such as when PULP FICTION lost to FORREST GUMP. But is THE SOCIAL NETWORK really considered a "cool" film? Wouldn't INCEPTION be considered the cool film? I suspect more people will be talking about INCEPTION in five years. I'll be surprised if people are talking about THE SOCIAL NETWORK in five weeks.
The Kids Are Not All Right
Brooke Mueller has moved back in with Charlie Sheen … "for the kids." Great idea, Brooke. It's important for kids to learn early how to snort coke off a porn star's ass. If you don't teach them that stuff, they learn it on the street or from watching TWO AND A HALF MEN.
Who's That Guy?
Oh, by the way, what's a Jason Statham? I keep seeing a preview for some action movie with a name I can't remember and it's starring something called Jason Statham. He is a reality show star-turned-actor or something? Apparently he's a star, yet if I walked by him on the street I'd have no idea.
Beauty and The Least
Have you seen those previews for BEASTLY? It's supposed to be a modern take on BEAUTY AND THE BEAST, in which a rich good-looking guy is transformed into a "hideous monster" and the curse can only be broken by the love of a good woman or Vanessa Hudgens. Of course, Hollywood's idea of beastly is ridic. The guy is still totally lean and built … but he's got scars. Why didn't they make him obese with tons of back hair? That's beastly. Well, they couldn't do that because no one would buy for one second that Vanessa Hudgens would fall in love with that, right? Hollywood wants to tell a story about how looks don't matter, but you know … not really.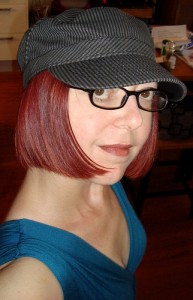 Sonia Mansfield likes to talk smack, make nerdy STAR WARS references and feed her unhealthy obsession with pop culture. Make sure you follow her on Twitter for constant updates or check out her blog, The Sonia Show.

Related Posts: