By SONIA MANSFIELD / Columnist
Posted: May 30th, 2011 / 10:50 AM
I hope you are enjoying your three-day weekend. I know I'm enjoying mine. With all the regular TV season pretty much wrapped up I actually have time to see my friends and family.
I was thinking about seeing THE HANGOVER II this weekend, but then I realized that I don't hate myself.
Let's get on with this week's Dork Side:
In a match made in E! heaven, Kim Kardashian is engaged to NBA player Kris Humphries. Everyone is wondering how long the marriage will last. I'm going to go out on a limb and guess six to eight episodes.
In all seriousness, engagements are worthy of hearty congratulations, so … Congratulations, Ryan Seacrest! You are going to get to produce yet another horrible reality show that is contributing to the cultural downfall of this country. Yay!
Scott McCreery won this season of AMERICAN IDOL, proving once again that IDOL voters love them some MAD MAGAZINE mascot Alfred E. Neuman. Don't believe me? Ask Clay Aiken.
I kid. I'm sure Scott McCreery will have a long career ahead of him … opening for Taylor Hicks.
X-MEN: FIRST CLASS star January Jones is pregnant, and everyone is speculating who the father is. I think it's pretty obvious. Right, Arnold Schwarzenegger?
The final episode of Oprah Winfrey's long-running talk show aired last week. You know, when I'm unemployed I lay around the house and watch Oprah. What is Oprah going to watch?
George Lopez's talk show LOPEZ TONIGHT is on the verge of being canceled. In a related story, George Lopez has a talk show.
Lindsay Lohan is under house arrest, where she spends her days lying to herself about her drug abuse and stealing from herself. Finally, the streets are safe.
AGREE? DISAGREE? LET YOUR VOICE BE HEARD – COMMENT BELOW
Click on link for more THE DORK SIDE columns

Follow us on Twitter at ASSIGNMENT X
Fan us on Facebook at ASSIGNMENTX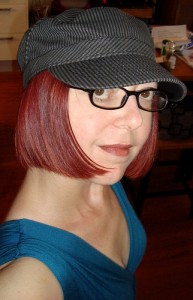 Sonia Mansfield likes to talk smack, make nerdy STAR WARS references and feed her unhealthy obsession with pop culture. Make sure you follow her on Twitter for constant updates or check out her blog, The Sonia Show.

Related Posts: