By SONIA MANSFIELD / Columnist
Posted: June 23rd, 2011 / 10:09 AM
I used to love AMERICAN IDOL.
I watched every season. Well, except for this last one. I quit AMERICAN IDOL cold turkey this year, and I never looked back. Honestly, I thought THE VOICE was going to be a lame IDOL ripoff. Instead it has turned out to be a pleasant surprise, addressing many of my problems with AMERICAN IDOL.
Not only do I like THE VOICE, I think it is superior to AMERICAN IDOL. Here are the five reasons I think THE VOICE is better than AMERICAN IDOL.
1. THE VOICE isn't sentimental.
No one made it through the auditions because they had a good personality. On AMERICAN IDOL, contestant Jeff Jenkins could have rode his dead mom all the way to the final two. And yes, I apologize for that imagery, but you get my meaning.
2. THE VOICE has better audition rounds.
It established itself as the stronger singing competition show from the get-go. Being hot and/or sharing a sob story wasn't going to get you through to the next round. You had to be able to sing or those judges would not be turning their chairs around. Therefore, all the contestants are good, quality singers. There's not a Sanjaya in the bunch.
Also, I wasn't forced to sit through bad singers or "singers" with questionable judgment. "Look, America, this person with an obvious mental problem thinks he can sing. Isn't that hilarious?" "Look, America, this chick is fat, but she is still confident, AND she thinks she can sing and she can't. Don't worry, we will set her straight and put her back in her place."
3. THE VOICE has judges that are relevant.
All of the judges on THE VOICE are actually still in the music industry. Cee Lo, Adam Levine and Blake Sheldon actually have hit records on the charts. Yes, even Christina Aguilera still matters. As for IDOL? Well, Steven Tyler hasn't had a hit in the lifetime of most of the IDOL contestants. Randy Jackson is even less relevant than Tito Jackson. Jennifer Lopez still kinda matters in the music industry, but that's mainly because she is married to Skeletor Marc Anthony.
4. THE VOICE makes it easier to vote.
I watched every season of AMERICAN IDOL except for this last one, and I hardly ever voted. Why? Because I don't want to sit there dialing some phone number over and over. Like I said above, I don't have that kind of time. THE VOICE lets you vote online. Easy. Also, THE VOICE lets you put your money where your mouth is. You can download a contestant's performance on iTunes and that counts as a vote.
Maybe it's because NBC viewers skew older than Fox viewers, so there are not as many tweens voting, but – in general – America has got it right with the voting on THE VOICE. While IDOL voters notoriously fail to vote for the best singer, the voters for THE VOICE appear to be unmoved by cuteness and dead moms, and the better singers prevail.
Oh sure, there were a few missteps by the judges early on in the battle rounds before the audience voting started. Blake Shelton chose a boring-ass country singer over a far-superior singer in the early battle rounds, but neither of those guys were going to make the final four anyway. Cee Lo should have never turned his chair around for the sticky-sweet Thompson sisters in the first place, and he definitely shouldn't have opted for them in a battle round. But, once again, it didn't really matter. America didn't vote for them, and the judges went with the better singers in the end.
And best of all …
5. THE VOICE doesn't drag on for almost five months.
AMERICAN IDOL runs from January through May and some weeks demanded six hours of your time. Are you kidding me? I don't want to spend six hours of my time watching some girl try to make "Black Velvet" sound different than the 20 other times it was performed on the show. THE VOICE started in May, and it's ending before July 4. That makes it feel more like an event. I'm more willing to watch it knowing that it's not going to demand a lot of my time.
AGREE? DISAGREE? LET YOUR VOICE BE HEARD – COMMENT BELOW
Click on Link: AX's THE VOICE Season 1 recap, review and list of the Final Four

Click on Link: AX's THE VOICE Season 1 review of  SEMI-FINALS
Click on Link: AX's THE VOICE Season 1 review of  LIVE SHOW, QUARTER-FINALS 2

Click on Link: AX's THE VOICE Season 1 review of  LIVE SHOW, QUARTER-FINALS 1

Click on Link: AX's THE VOICE Season 1 review of BATTLES, PART 4
Follow us on Twitter at ASSIGNMENT X
Fan us on Facebook at ASSIGNMENTX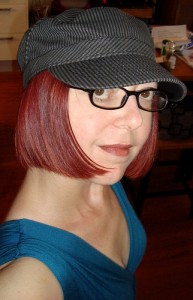 Sonia Mansfield likes to talk smack, make nerdy STAR WARS references and feed her unhealthy obsession with pop culture. Make sure you follow her on Twitter for constant updates or check out her blog, The Sonia Show.

Related Posts: