By PAUL ZIMMERMAN / Contributing Editor
Posted: June 24th, 2011 / 05:59 PM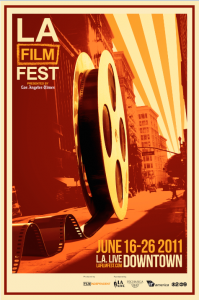 Dateline: Downtown Los Angeles
Exactly why, you may wonder, would one need to attend a film festival in Los Angeles. Isn't everyday a film day? Yes and no. Sure, any given day there might be a film premiere or a star appearance. But only the Los Angeles Film Festival offers such a magnificent mix of multimedia culture clash.
It may be only the second year for the LA Film Festival in its new location—downtown's glitzy steel and glass entertainment center known as L.A. Live—but it already seems as familiar as popcorn and butter.
With most films showing at the Regal Cinemas—spitting distance from makeshift festival tents locating on parking lot rooftops—this is truly a self contained film center. And with the Jameson's Filmmaker's Lounge and food trucks on said rooftops above and hotels, entertainment venues and assorted other bars and restaurants down below, you get just the wacky juxtaposition of festival regulars and LA denizens.
Which means if you wandered into the intimate Grammy Museum you could hear veteran director Julie Taymor NOT talk about the ill fated SPIDER-MAN musical she got booted off of recently. Out of cash? No problem. There were free outdoor screenings of FERRIS BUELLER'S DAY OFF and STAND BY ME. (Who knew 1986 would be such a seminal year?) Or you could have heard James Franco explain in a live sit down event just what art forms he's NOT going to attempt.
But the best culture crash experience came if you attended Lee Tamahori's searing comeback film THE DEVIL'S DOUBLE (think PRINCE AND THE PAUPER meets SCARFACE). Because after you exited his theater Q&A you'd run into thousands of fans getting out of the adjacent Brittney Spears / Nicky Minaj concert. (An epic event NOT connected to the LA Film Festival).
Where else could scrappy filmmakers have gotten a chance to co-exist (and literally commingle) with inappropriately outfitted  teen Britney fans running barefoot down Olympic Blvd with their stiletto heels shoes slung over their shoulders.
High art and low humor. What could be more L.A. ?
It wasn't this way when the L.A. Film Festival's home base was UCLA's Westwood campus. Sure there were plenty of theaters and available filmmaker free range space with the students on Summer break, but it never quite jelled. When it was announced L.A. Live would be the new home to the yearly 10 day event skeptics scoffed (as skeptics tend to do), that perhaps the hipster cinema lovers wouldn't make the trek downtown from the far reaches of Santa Monica, Hollywood and Silverlake. Luckily hipper heads have prevailed, last years' festival did just fine and as 2011's festival hits its mid way point things look rosy.
Opening night's film was Richard Linklater's BERNIE which saw the up again / down again director reteaming with his SCHOOL OF ROCK star Jack Black.If that seemed too esoteric for you the lackluster GREEN LANTERN also showed that night. (Sponsored by the Pechanga Restort and Casino, there were lots of jokes about betting and losing that night).
GREEN LANTERN might not have struck you as a film festival sort of film 10 years ago but putting a few mainstream blockbusters into the mix is now old hat. The practice began with vigor at Cannes some years ago and it's now just a normal thing. Witness last year's LA Film Festival's hosting the premier of the third TWILIGHT film. Hundreds of rabid camped out days in advance and many bought the pricey all inclusive pass just to see the one film.
Better received than BERNIE or GREEN LANTERN was Friday's showing of the nightmarish noir feature DRIVE by Danish director Nicolas Winding Refn (PUSHER) starring a never better Ryan Gosling. (Sorry BLUE VALENTINE fans, but if I want to see gritty domestic battles I'll go to a family reunion).
UPCOMING EVENTS OF INTEREST
Daniele Luppi presents NAVAJO JOE.
Way back in the mid '60s it seemed every struggling actor ended up in a Spaghetti Western and Burt Reynolds was no exception. Reynolds, (aping Marlon Brando), plays an American Indian hell bent on revenge and not losing his ill fitting wig. Euro composer Danielle Luppi, who's been called "this generation's Ennio Morricone" hosts a special screening and after film conversation. You'll recognize NAVAJO's distinctive themes, Quentin Tarantino used some of it in KILL BILL. Tonight
THE SEDUCTION OF INGMAR BERGMAN
Picture this: a multimedia event held at the intimate Ford Amphitheater. Music by the rock band Sparks. Direction by cult Canadian director Guy Maddin. 14 live actors including Ann Magnuson and Rebecca Sjowall. Based on a script originally commissioned by Swedish National Radio it's a "what if?" story about the Swedish director coming to Hollywood in the 1950s. Saturday, June 25th
Hundreds of more films, panels and events, check 'em out at…
Related Posts: