By CARL CORTEZ / Contributing Editor
Posted: February 4th, 2011 / 12:11 PM
It's hard to believe that SMALLVILLE is coming to an end after 10 seasons on the air, but this Spring, Clark Kent (Tom Welling) will finally grow into the Superman we all know and love. And guiding Clark on his mission since Season 4 (obviously and not so obviously)  has been Lois Lane played to perfection by Erica Durance.
The timeline for SMALLVILLE has clearly veered from the pre-existing Superman mythology to take some wonderful detours along the way – and this year alone, Clark has already proposed to Lois which has taken the Lois and Clark relationship into new and exciting directions.
Where this will all lead, is part of the mystery and the major fun of the last half of Season 10 (which kicks into gear tonight on The CW), and ASSIGNMENT X recently spoke with Durance about the show coming to an end and where she would like Lois Lane to be, before it's all over.
ASSIGNMENT X: One of the coolest moments this season was seeing you up on the cross in the premiere episode – was that kind of freaky being so high up on that cross?
ERICA DURANCE: They take such good care of me and they had harnesses if we needed them. They tied me up there and they made it look more dangerous with the fire around me, but they take such good care of me.
AX: Did you know the engagement to Clark was going to happen?
DURANCE: I didn't know it until I read it. I thought "goodie." That was the side of me that loves Superman and the whole mythology. Then I put that to the side, and said, "let's get to work and do this." And like anything that I have to do, I'm super passionate about it, I love it and I get into it.
AX: Would you like to see Clark and Lois still together at the end of the season?

DURANCE: For myself, I feel, because it's in its tenth season, it would be nice to finish it off strong and have Clark and I together. That would be lovely.
AX: You've said that this season you're kind of propping Clark up so he can end up becoming Superman, but I find it funny that Clark should need propping up – he's Superman. Can you elaborate on that a bit …
DURANCE: Of course he's his own man, but every great person out there in history will have a support team around him, whether it's his wife, or his father or whatever. That is the way it has been designed, if you look at human beings. And the people who have been required to do so much in life, never really see how magnificent they are and they have the self-doubt which is what causes them to fight for the good, because they do have that self-doubt, and what they need is to have people around them to say, "stay the course, you can do this, you are amazing."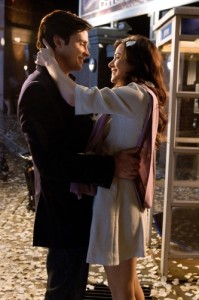 AX:How would you like to see the show end – for Lois, not for Clark …
DURANCE: Lois is a reporter and she's has found herself and I like to believe since it is open-ended, I would like people to think when she walks through that door, she walks in with confidence and she is that Lois Lane.
AX: What's your favorite Lois moment during your run on the show?
DURANCE: Any and every moment she's had with Clark.
AX: What have you learned from Lois that's helped you as you've grown up on the show?
DURANCE: That it's okay to make mistakes and it's okay to be seen as foolish and to be able to laugh at yourself. And to maybe be more assertive.
(additional reporting by A.C. Ferrante)
WHAT DO YOU WANT TO SEE HAPPEN DURING THE REST OF SEASON 10? COMMENT BELOW
Related Posts: