By EMERSON PARKER / Contributing Writer
Posted: November 18th, 2010 / 11:57 AM
I definitely like the way that the opening episode of Season Two of HUMAN TARGET, "Ilsa Pucci," set the table for the season ahead.
While I'm sure some fans will be upset they glossed over the Season One finale – we got nothing to the fate of Katherine (Amy Acker) or Classic Chance (Lee Majors) who were introduced in the season finale – and the whole point of the finale, the mysterious book, gets destroyed in the first five minutes, it was a necessary evil to progress the show for the second season.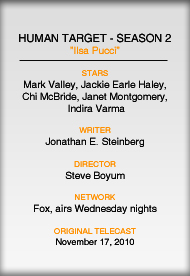 The introduction of two new female characters on the show worked well as they both bring equally important yet different elements to the show that weren't there in Season One. Ilsa (Indira Varma – who is probably most familiar to U.S. fans from TORCHWOOD and HBO'S ROME) brings a steady flow of cash and resources to the party, something the crew has eternally struggled with since day one. While Ames (Janet Montgomery) brings another element of troublemaking to the crew, she also has skills that seem extremely familiar to those of Guerrero (Jackie Earle Haley), albeit minus the violence.
I can see where Ilsa will have a purpose, getting contracts, giving funds and a romantic interest with Chance (Mark Valley) but it certainly appears that she is just a female version of Guerrero and their talents might just overlap or even compete with each other. Maybe that's where they are going with this – may the best thief win? That might make for an interesting dynamic and I guess we'll have to see where it goes.
Also by dispelling with the business of the cliffhanger, HUMAN TARGET quickly moved back to what it does best, showing that Chance is the best at what he does for a reason, something that Ilsa had to learn the hard way. And now the good news is that the show isn't hindered by anything at this point. We still know little to nothing about Chance. We still know little to nothing about Guerrero. And we now have a number of new characters that we know little to nothing about. That means the door is open for anything in terms of plotline and mythology.
Showrunner Jon Steinberg said in numerous interviews that the show, if given a second season, would focus perhaps a bit more on the mythology aspect rather than stand-alone episodes, but there would always be one-shots here or there. This gives him and his team of writers the best possible scenario in order to do this. For new viewers this is a good starting point to jump on to the show and for fans that watched Season One it gives them something fresh, but with the same characters they loved.
Related Posts: