By DANIEL SCHWEIGER / Contributing Editor
Posted: November 18th, 2010 / 11:56 AM
When it comes to grooving filmmakers, Danny Boyle just might be the most creative D.J.-cum-director of them all. Cutting his movies to the fierce energy, and hallucinatory rhythms of a rave with particularly good drugs, Boyle's best, confrontational imagery has pulsated with often-improbable mix tapes of score and songs, creating any number of memorably crazy scenes.
Scottish addicts did screw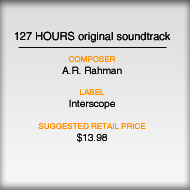 ball crimes to Iggy Pop's "Lust for Life" in TRAINSPOTTING, the religious strains of "Ave Maria" gave way to the rabid zombie guitar run of John Murphy's score to 28 WEEKS LATER before that composer teamed with the electro group Orbital for the space journey of SUNSHINE. But none of Boyle's color-saturated mash-ups have been more Best Picture popular than when teamed with the world beat of A.R. Rahman's exotic pop riffs in SLUMDOG MILLIONAIRE, a film that culminated with a train station gyrating to "Jai Ho." It was all part and parcel of what made the composer walk of out last year's Oscar ceremonies with twin wins for Best Score and Original Song, not to mention an international hit song.
Whether it's been punks, rage-filled zombies or Indian kids, Boyle has always used music to keep his characters on their feet, a sense of motion that can become dizzying. But what happens for a risk-taking director, when he takes the biggest gamble of all with a composer who's never done an "American" score?
The result is a movie about a guy who's stuck at the bottom of a desert canyon with a boulder pinning his arm, trying to figure a way out of the inevitable for 127 HOURS. Here Boyle's musical choices alternately taunt and haunt Aron Ralston, mesmerizing tones that lead towards the only grisly, and existence-affirming choice that's possible. Where anyone else might make the better part of the film's 90 minutes tick by with dull dread, we aren't talking about Danny Boyle, let alone A.R. Rahman. Both make a claustrophobic chamber piece as vibrant, and emotionally impactful as life itself, listening to the big picture of one man's struggle with exhilarating, and moving results.
Needless to say, the marketing challenge of 127 HOURS is selling a film that isn't exactly the kind of ultimately, toe-tapping feel good time that Boyle and Rahman's last collaboration became (let alone dealing with the unspoken freakshow attraction of seeing the severance of an entirely different body part). Yet like SLUMDOG, 127 HOURS also has a hero who goes through unbelievable adversity before coming out on top. It's a journey of desert and transfiguration that Boyle communicates with typical kinetic abandon, while allowing Rahman to go into unfamiliar melodic passageways.
Though the composer has never quite done a score like this, it would be a huge mistake to think of Rahman as a musician only good for handling "Indian" soundtracks. For the dozens of scores he's composed for his equally prolific native cinema, Rahman's also given contemporary flair to such pictures as the battle-ready England of ELIZABETH THE GOLDEN AGE and the Chinese action of WARRIORS OF HEAVEN AND EARTH. So it isn't too much of a stretch to throw him into the recesses of a California canyon to see what he digs out of it.
At first, Rahman views the desert landscape with a solemn, lush string beauty befitting Aaron Copland's Americana in "The Canyon." But that's just about the only old-school feel to his score, as "Liberation Begins" introduces a suspenseful, acoustical theme that will build with an orchestra in "Liberation is a Dream." Then with "Liberation," Rahman goes for the big, climactic build with surging guitars and heroic strings. It's a sound right in tune with the kind of accelerating chases that John Murphy did for Boyle's 28 WEEKS LATER and SUNSHINE, movie-trailer ready music   with a big finish that's an essential part of Boyle's tastes.
If 127 HOURS shows that Rahman could just as easily play rampaging ghouls, the score also shows his dexterity as conjuring the kind of meditative desert vibe that Pink Floyd gave to Michaelangelo Antonioni's far more sedate (if no less hallucinogenic) ZABRISKE POINT. A guitar and bubbling samples give Aron a poignant "Touch of the Sun," with child-like bells and voices literally bringing out his inner child. The gongs and shouts of "Acid Darbari" mix an exotic Spaghetti Western feel with flutes and strings befitting Rahman's ethnicity, while a percussive, Peter Gabriel LAST TEMPTATION OF CHRIST approach infuses "R.I.P." Wordless moaning voices wash over Aron at the pit of canyon despair. Yet the cue also gives him a beatific sense of acceptance before the tribal rhythm is unexpectedly joined by propulsive symphonic action for a neat twist of the cue's head trip.
As always, songs are just as essential to Boyle in his telling of the story and the tunes of 127 HOURS are chosen with his usual brilliance, here always contrasting spiritual drama with sometimes jokey irony. Aron's adrenalin junkie attitude is conveyed with the rave tribal beat of Free Blood's "Never Hear Surf Music Again," a song that tells us of the danger-seeking chemicals in our brains. It also rings Boyle's brilliant visuals as it captures the split-screen energy of Aron's canyon prep with the rat race around him.
As Aron is watching the last of his water disappear, Boyle mercilessly brings in his dreamy desperation for a drink with Bill Wither's jolly "Lovely Day." Similar wish-I-was-anywhere-but-here irony jams Aron into a throng of female bodies in the French bubblegum rock of Plastic Bertrand's "Ca Plane Pour Moi." A lovely jazz resignation is heard in Esther Phillips' ""If You Love Me (Really Love Me") which the horizon above Aron with such lyrics as  "Should I catch a shooting star, should I bring it where you are?" Even the lilting piano of Chopin's "Nocturne No. 2 in E Flat" is in the desert to genuflect with Aron.
127 HOURS is perhaps at its most musically remarkable when Aron makes the only decision possible to free himself. And Boyle's climactic musical builds hit their height with Sigur Ros' "Festival." The Icelandic band has been used to convey a beautiful, mourning quality to such soundtracks as VANILLA SKY and THE LIFE AQUATIC, but here it's all about fighting for life itself, its soaring voice and religioso organ segueing into triumphant rock percussion as Aron moves toward the light. It's ten minutes of pure transcendence, carrying an emotional wallop that truly takes 127 HOURS from nature survival flick to tear-inducing Oscar time.
The final grace note is provided by Rahman and Dido's "If I Rise," which brings a delicately affecting optimism that life goes on, let alone showing how Aron can return to his old one with a new understanding. Sure the children's chorus here might not be "Jai Ho," but then again, Danny Boyle and A.R. Rahman are going for a far more interior moment of transcendence, one that tells us the often-awful fight for life is more than worth it- especially in this haunting fever dream that takes a filmmaker and musician to new heights while pondering their way out of a man's darkest hours.
Get stuck for 127 HOURS HERE.
Related Posts: