By SONIA MANSFIELD / Columnist
Posted: December 2nd, 2010 / 07:33 AM
I blame AVATAR for this whole thing.
AVATAR, you owe the world an apology. You came out last year with the most amazing 3-D and now every crapsterpiece movie that comes out is in 3-D. Sure, there were movies that did 3-D before AVATAR, and some of them did it well (CORALINE). But ever since AVATAR the movie studios have started releasing even more movies in 3-D hoping to capture some of those unobtainum dollars. But, really, none of those movies put in the time, effort and money to look as great as the 3-D in AVATAR did.
Don't believe me? I present exhibit A:
Seriously, who thought YOGI BEAR was a good idea? And why in 3-D?
"The 3-D is awesome! It was like Yogi Bear came right off the screen and stole $15 out of my wallet plus the 82 minutes of my life I will never get back."
Here's a sampling of the movies that came out in 3-D in the past year:
PIRANHA 3-D
JACKASS 3-D
CLASH OF THE TITANS
ALICE IN WONDERLAND
HOW TO TRAIN YOUR DRAGON
THE LAST AIRBENDER
SAW 3-D
LEGENDS OF THE GUARDIAN: THE OWLS OF GA'HOOLE
CATS & DOGS: THE REVENGE OF KITTY GALORE
DESPICABLE ME
SHREK EVER AFTER
STEP UP 3-D
MEGAMIND
TOY STORY 3
I think we all remember where we were when LEGENDS OF THE GUARDIAN: THE OWLS OF GA'HOOLE came out. What an awesome 3-D event that was, am I right, folks?!
On that list, maybe one or two of them benefited from 3-D. The rest just gave you a headache or made you nauseous or distracted you from the movie, and – best of all – you paid for it. Sucker!
Look, I'm all for progress. There were folks in Hollywood that thought sound in movies was a bad idea and then color, etc. I'm not saying that filmmakers should never use 3-D. I'm not saying that 3-D is evil. Like every good nerd, I have high hopes for TRON: LEGACY. (I'm not made of stone, people.) What I'm saying is, I wish movie studios would stop abusing 3-D. Movie studios, if you are going to use it, use it right. Make the movie-going experience better. Don't just slap it in there. Using 3-D is not going to mask the fact that you have a crappy script or that you thought hiring Megan Fox was a good idea.
Could you imagine seeing PRECIOUS in 3-D? Not every movie needs to be in 3-D. Trust me, no one, I repeat, no one needs LITTLE FOCKERS in 3-D. Actually, no one needs to see LITTLE FOCKERS period.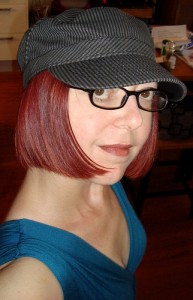 Sonia Mansfield likes to talk smack, make nerdy STAR WARS references and feed her unhealthy obsession with pop culture. Make sure you follow her on Twitter for constant updates or check out her blog, The Sonia Show.

Related Posts: