By PAUL ZIMMERMAN / Contributing Editor
Posted: September 20th, 2022 / 01:33 AM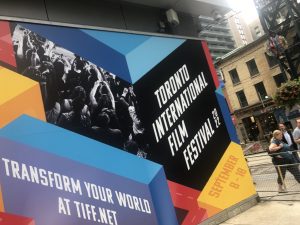 Dateline Toronto Film Festival: 10 Days. Over 200 films. You're going to have to pick and chose carefully. After two years of Covid-19 restrictions and online "virtual film festivals" TIFF returned in 2022 to full on in person spectacle. The stars were back, the seats were full and the sponsors were happy. Here's what I found; Taylor Swift lauded for shooting her video on film, two films (MY POLICEMAN, DON'T WORRY DARLING) staring singer turned actor Harry Styles and a whole lot more. (You know it's an odd year when WEIRD: THE AL YANKOVIC STORY has jam packed press screenings). But it did. So I went next door and found an excellent Brazilian film (more on that below). Here's the ones most talked about…
THE BUZZ FILMS
TAR
After sixteen years writer / director Todd Fields (LITTLE CHILDREN) returned with TAR starring Cate Blanchett as a talented and trouble symphony conductor. Exceptional but exhausting many were using the M-word (Masterpiece) and a never better Blanchett is headed (again) to awards glory.
THE FABELMANS
Steven Spielberg's semi autobiographical film about how he went from an ardent fan of THE GREATEST SHOW ON EARTH (and THAT train crash scene) to filmmaker. Some called it an American Cinema Paradiso, some called it too long (two and a half hours) and most called it heartwarming. Spielberg downplayed that is was all about his life story but word came that he'd payed attention to every detail having star Michelle Williams adopt the pixie hair cut his mother had in the '60s. Spielberg hit town personally too, his first time debuting a film at TIFF.
THE WHALE
Darren Aronofsky (MOTHER!, THE WRESTLER) tones down his usual histrionics for this nearly stage bound story of an extremely obese man's attempt to reconcile with his daughter. While it's an effective tear jerker and star Brendan Fraser is fantastic many wondered how Aronofsky could contain himself.
THE GOOD NURSE
True tale drama about euthanizing nurse gets the upscale Lifetime movie treatment. Perhaps all the excitement was over co-leads Jessica Chasten and Eddie Redmayne. They are both fantastic but you have to sit through a lot of "bad cop" scenes, sluggish pace and gauzy photography (any warm colors were apparently left on the cutting room floor) before you get to the outrage.
BANSHEES OF INISHERIN
Colin Farrell and Gleeson star in Martin McDonagh's period drama about a friendship gone awry set in Ireland. Everyone loved these two actors and their chemistry in 2008's cult classic IN BRUGES (also written and directed by DcDonagh) and they loved them here too even though they both play very different characters. One of the solid hits of the festival.
DALILAND
Painter Salvador Dali's wild New York City 1970s era gets the big screen excess treatment in this film directed by Mary Harron. Having taken aim at the art world before (I SHOT ANDY WARHOL) many expected more from the somewhat conventional film. Fortunately Ben Kingsley as Dali and Barbara Sukowa as his wife Gala rise above the material. (Which is oddly structured like CABERET; attractive outsider is drawn into a decadent art world, will his morals survive?) It doesn't help matters that we never see a Dali painting, (apparently they couldn't secure the rights), it's like that David Bowie STARDUST bio-pic where they couldn't use his music and the film fell flat. Still, Kingsley is clearly having the time of his life, it's no wonder he declared in Toronto "I've found my (King) Lear!"
WORLD CINEMA
CHARCOL
Stunning drama with serious black humor overtones set in rural São Paulo Brazil. In the shadow of a charcoal factory a poor family battles poverty, the local gang and themselves. Nothing is quite as it seems after they agree to hide a local chieftain for money. To say more would spoil the surprises, one of the festival's best finds. Not surprisingly one of six film pre-selected to compete for Best International Film Academy Award.
THE LOST KING
Stephen Frears new take on the Richard III legend and his remains via a historical dig starring the always reliable and game Sally Hawkins. Reviews were not kind (Frears can be hit or miss but remains a festival favorite) despite a cracking good story idea from Steve Coogan and Jeff Pope.
MURO
New Zealand action-drama detailing the scandalous 2007 police raids on a native community. Fear the Walking Dead fans will recognize lead Cliff Curtis who plays Community Sergeant "Taffy" who's stuck between the aggressive cops and the local Ruatoki community. Matters escalate, blood is shed and alliances broken. It's a bit too by the numbers earnest but is clearly a tale that needs to be told.
THE DUDS
THE PRISONER'S DAUGHTER
Earnest drama about a man released from prison trying to win back the love of his daughter and grandson. Brian Cox plays the con, Kate Beckinsale his daughter and newcomer Christopher Convery the grandson. Director Katherine Hardwicke has handled coming of age stories before (THIRTEEN) and knows her way around directing major stars (TWILIGHT) but is hampered here by a trite script. Beckinsale tries her best as the troubled mom but she looks lost and Cox, who is such a special rotter in TV's SUCCESSION, probably thought this was his chance at GRAN TORINO audience redemption. The audience groaning at the lovable moral cons and bikers were partially funny.
THE BLACKENING
Based on a clever and hilarious 2018 four-and-a-half-minute sketch about how African American always the first to die in horror films, perhaps this should have stayed that way. The jokes run out after about the first half hour and the screening I attended had walk outs galore. The cast, including Antoinette Robertson, Dewayne Perking and Grace Byers, is so game though I had to stay to the end.
Related: Film Festival: The Scoop on the 27th Annual Toronto International Film Festival – Part 2 (The Winners)
Related: Film Festival: The Scoop on the 27th Annual Toronto International Film Festival – Part 3 (Scrapbook and Wrap-up)
Follow us on Twitter at ASSIGNMENT X
Like us on Facebook at ASSIGNMENT X
Related Posts: