By ABBIE BERNSTEIN / Staff Writer
Posted: July 8th, 2020 / 10:34 AM
ROBIN OF SHERWOOD is a singular version of the Robin Hood legend, made for British television, that ran originally ran in the U.K. on ITV and in the U.S. on Showtime from 1984 through 1986.
The legend of Robin Hood, the outlaw leader who robs from the rich and gives to the poor, possibly dates back to thirteenth-century mummers plays. Fandom for ROBIN OF SHERWOOD isn't quite that old, but it's still alive and well, with multiple online groups for the series itself, the actors and the characters. The longest-lasting club, Spirit of Sherwood, authorized by series creator Richard Carpenter, has now been around for thirty years. The newer Official Robin of Sherwood group, authorized by Carpenter's estate and ITV, is affiliated with the Spiteful Puppet production company. Spiteful Puppet produced the audio play of Carpenter's unproduced feature film script ROBIN OF SHERWOOD: KNIGHTS OF THE APOCALYPSE, which brought back the entire original cast. Spiteful Puppet has subsequently produced a number of original new ROBIN OF SHERWOOD audio plays, featuring many members of the original cast, including Michael Praed and Jason Connery, as well as original new novels.
Robin Hood has been played before the camera by such luminaries as Douglas Fairbanks Sr. and Jr., Errol Flynn, Richard Greene and Sean Connery. However, ask people to choose their favorite screen Robin Hood and a surprising number will cite ROBIN OF SHERWOOD leads Praed or Connery, or even both.
Devised and largely written by Carpenter, who passed away in 2012, and produced by Paul Knight, ROBIN OF SHERWOOD is regarded by many viewers as the definitive dramatization of the Robin Hood tale. It eventually was shown all over the world, becoming one of the few Western series to run in the then-Soviet Union. ROBIN OF SHERWOOD is currently available on DVD and Blu-ray, as well as on the streaming services Amazon and Tubi, and on TV in Sri Lanka.
Praed played Robin of Loxley, a Saxon peasant chosen by the forest god Herne the Hunter to be Robin I' the Hood, champion of the dispossessed of England. Robin is killed by the Sheriff of Nottingham's men in the last episode of the second season. In the third season opener, Connery's Robert of Huntingdon, an earl's son, is introduced as he surprises himself and the merry men by taking on the mantle of the Hooded Man.
Since ROBIN OF SHERWOOD, Praed has continued his acting career on the stage in both plays and musicals, as well as in television and film. Connery still acts, but he has branched out into directing and producing feature films. His most recent directorial project, the historical drama TOMMY'S HONOUR, won the Scottish BAFTA for Best Feature Film. Additionally, Connery and his producing partner Bob Last in First Stage are set to run the newly refurbished film studio in Edinburgh, Scotland, where parts of MARVEL'S AVENGERS: INFINITY WAR were shot.
This interview with Praed and Connery, speaking separately in Los Angeles about their time under the hood, was originally conducted a number of years ago and first published in EON MAGAZINE.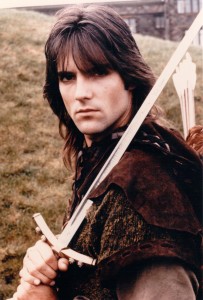 Praed relates how he was cast as Robin, his first major on-camera role at age twenty-three after years of doing stage. "Kip [Richard] Carpenter and Paul Knight came to see the show I was doing [the London revival of the Gilbert and Sullivan musical THE PIRATES OF PENZANCE] – I think because they wanted to see CATS and they couldn't get in. I suppose I was lucky in that I was very well cast in [PIRATES], so they saw me in a good light, as it were. At that time, I had long hair, which was for an actor unusual. I'd learned to fence when I was very young and am quite comfortable around swords – maybe that helped. They had an idea of what they wanted their leading man to look like, and I think I must have fit a version of what they were looking for. It's a question you don't really ask: 'Why did you pick me?'
"I never really had an official audition for them," Praed continues. "They took me out for lunch and it was very low-key. I remember that they talked about this project, but it was so unlike the typical audition, where you go and you have a tie and you sit on a seat, and there's a whole bunch of faces behind a desk firing questions at you. It's a horrible process, the audition, because it's just very difficult to be normal. But at lunch, it was very quote-unquote normal. They explained to me what they were attempting with this Robin Hood. They wanted to do a MAGNIFICENT SEVEN, a big buddy picture, with all these very different-looking [people]. It sounded really exciting to me, and then the offer came through."
When he was twenty-two, Connery had already starred on stage and in several independent films – including DREAM ONE and THE BOY WHO HAD EVERYTHING – but had never before had the lead in a TV series. He describes his screen test in Bristol: "I went down to where they were shooting, and rather spectacularly badly fired a bow and arrow. There was a scene where I had to point at a tree and say, 'You see the oak over there?' And all of them go," he adopts a sarcastic tone, "'Yeah, yeah, yeah,' and Little John [played by Clive Mantle] is saying to me, 'Oh, you're never going to hit that.' And the line after I fire the arrow, Little John says, 'By Saint Thomas, lad, what a shot!' And I strung [the bow] up wrong.  When I went like this," he makes a bow-firing gesture, "everyone's looking in the distance, and the arrow just went straight down."
The misfire was not ultimately held against Connery, who still vividly recalls where he was when he learned he was going to play Robin. "I auditioned and then I went to Australia, where my mum [the late actress Diane Cilento] lived. I was in the goat house, and I was mucking them out or something, and the phone goes, and I ran into the house to pick up the phone, and my agent said, 'Hello, is Robin Hood there?' And I said, 'No, I'm sorry, you've got the wrong number,' and I put the phone down and went back to the goats. I was about five steps in and I went, 'Oh!' So I rang my agent back and she's in hysterics laughing, and she said, 'They've offered you the part.'"
Connery thinks his physical contrast to Praed was a factor in the casting. "I was very different from Michael.  He's dark and I'm fair.  And it was a different avenue to go. They decided that there were two different legends, one of them being Robin of Loxley and the other one being Robert of Huntingdon, who was actually the son of a lord. He came from quite a highbrow family, and just didn't like the way things were, almost like Zorro, changed his whole demeanor and started this gang." Connery surmises that there may well have been more than two legends: "When you read some of the stuff, like, 'In the morning, he robbed King Blob in Scotland, in the afternoon, he was in Wales, and by the next evening, he was in Cornwall' – there were a lot of things that were said to be his work."
With a minimum of two swordfights per episode that often involved most of the ROBIN OF SHERWOOD regulars, pre-production preparation was essential. "Before we started shooting, we did have a two-week, fairly intensive 'skills assessment,'" Praed says.
Stunt coordinator/sword master Terry Walsh oversaw the process. "He didn't know what our skill levels were," Praed relates. "I remember that period particularly as a very good one, in that it gave us a chance to get to know each other a bit, although I don't think that was the reason [for the training period]. It's an action series, so you'd better make sure that if these guys don't look convincing yet, you've got some time to make them look convincing."
At the outset, Praed needed assistance in relating to his equine co-stars. "The producers thought that I did ride," he explains. "It hadn't occurred to anybody [prior to casting] to ask whether I did. I said, 'No, I don't know the front end of the horse from the back.' And so we went to [ROBIN OF SHERWOOD horsemaster] Steve Dent, and he was quite masterful, because he was quite honest. He said, 'Listen, we haven't got the time for me to teach you properly how to do this, so get on a horse. The trick is, do whatever feels comfortable. And I'll help as much as I can.' Which was quite clever, really, because when it stopped hurting, I realized, 'Oh, this feels right.' But I wasn't an accomplished rider then – I had never been taught that a little pressure here means that to the animal. And it is quite confusing.
"I'm a bit better now," Praed continues. "I always sort of comforted myself in thinking, 'Well, there's no historical precedent that Robin Hood was a great rider.' We always had great horses.  I grew tremendously fond of the beast that I was given to ride. I think it's true that I always rode the same horse, Caesar. Robert Addie [who played Guy of Gisburne] was a superb horseman, and consequently got the most extraordinary beast. I think he rode the BLACK BEAUTY horse, beautiful big stallion. I was always tremendously envious of his exquisite horsemanship, that he had complete mastery over this pretty strong animal."
Mastery over the bow was amply demonstrated by ROBIN OF SHERWOOD's archery supervisor, Olympic champion Gabe Cronelly. "Gabe Cronelly was very specific about, 'This is how a longbow was drawn,'" Praed says. "We did have target practice.  And it was extraordinary how, with a little bit of practice, you can get pretty accurate. Obviously, if you look at the scale of things, my longbow wasn't a longbow at all – it should have been much bigger than me. But [Cronelly] was very particular about, 'Let's try not to have too many anachronisms here.' And then we did fire some genuine longbows. I was very impressed with the ferocity that the [arrow] comes out of that bowstring. It was a hell of a weapon."
In the episode "Seven Poor Knights from Acre," Praed managed to genuinely hit a swinging bag on a rope in an archery-practice scene. "That had really less to do with accuracy than with timing," he maintains, "because the bag was really wide and I did have 50 or so shots beforehand. It was just a happy accident that I did hit it." He acknowledges the cast was lucky not to have hit other moving targets. "We'd play all kinds of insane games with the bows and arrows. 'Let's fire an arrow up into the air!' It was a miracle no one got killed. Not everybody indulged in such adolescent games. We were kids, though – part of the excesses of being twentysomething is you're allowed a certain amount of latitude with common sense."
A different sort of brush with danger occurred for Connery before filming on third season had even begun. "I did quite extensive training with [Walsh] on a farm in Rickmansworth just outside London, for about four weeks, every day," he relates. "I did staff fights and fist-fights and sword-fighting. But one day, I was late and I was speeding down the highway, and I got stopped by the police. In the back of my car was a big broadsword, a staff, a bow and arrows, and some leather stuff. The policeman knocked on my window and said, 'Who do you think you are, Robin Hood?' That was before I ever played it.  'Not yet, but I hope to be.' Anyway, he still did me – I got three points for speeding."
Although Connery had learned stage combat in drama school, he found different techniques were necessary on set. "On stage, it's different," he explains. "It's much more of a dance, it's much less physical. You're still going at it, but you dance round, keeping a specific distance from each other. When you're fighting in the woods and there's mud, it gets much more earthy."
By third season, the swordfights-in-mud had resulted in some unusual costume design innovations. "If you look carefully in a couple of episodes," Connery points out, "you'll see that we actually had car tire soles on our boots, which were actually rubber. They used to cover them up, but sometimes someone would fall over and you would see the indentation of the soles. Because the first year, they had leather soles, and as soon as they got wet, you might as well be on ice skates."
"Christ, it was slippery," Praed agrees. "Those shoes we had were appalling – no grip.  We'd fall over a lot. Of course, we then got into the habit of laughing a lot. We were never allowed to do anything particularly dangerous, but there were a few times, I suppose, that things could have gotten out of hand. It's a great irony – I mean, I got hurt jumping over a three-foot wall, twisted something. As the series went on, it wasn't that we got to do more and more stuff – we did, but everybody's comfort level rose exponentially when they realized, 'I think these guys are pretty physical and they're probably not gonna hurt themselves.' Terry Walsh was excellent [in ensuring on-set safety]."
To a certain extent, the actors were allowed to suggest fight moves. Part of it had to do becoming accustomed to ROBIN OF SHERWOOD's regular stuntmen, who played the soldiers battling the outlaws in melee after melee. "By the end," Connery says, "we'd all killed so many of the stuntmen so many times. 'Oh, Christ, not you again!' I mean, they had false noses [to make them look different from adversaries in earlier fights]. Greg Powell is huge, about six-foot-six, and I'm always fighting him. It was so funny, because every time I saw him, he had a different thing on. It seemed to get less rehearsal time as the schedule picked up. By the end, we used to [work on] the fights and then just go to Terry and say, 'What do you think of this?  How does this look?' Because a lot of times, there might be all of us fighting in this room at the same time, and he couldn't do all of it. We would actually have names for specific moves, so you could say it. It would be a set move, and we all knew it."
The quarterstaff turned out to be a very tricky weapon. When Little John, played by Clive Mantle, first meets Loxley, then Huntingdon, there is a staff fight on both occasions. The ROBIN OF SHERWOOD outtake reel immortalizes a moment when Mantle's staff accidentally catches Praed between the legs.
Connery remembers being unintentionally struck and inadvertently responding in kind. "[Mantle] did hit me over the head, and in fact, I hit him over the head, and Clive's six-foot-six. When we were doing the staff fight, I'm meant to do that," Connery gestures as though wielding a vertical length of wood, "and he's meant to block it, and he didn't get his staff in time, or maybe I was early, but it went boink right on his head."
Follow us on Twitter at ASSIGNMENT X
Like us on Facebook at ASSIGNMENT X
Related Posts: