By DANIEL SCHWEIGER / Soundtrack Editor
Posted: August 12th, 2014 / 07:28 AM
When it comes to musical testosterone, Brian Tyler's work is the equivalent of a soundtrack Stairmaster playing at top speed. Whether he's scoring Viking gods, international speed racers or not-so over-the-hill brothers in arms, Tyler's dynamically percussive rhythms blast multiplex speakers with maximum impact, his mighty cues throttling from one explosive crescendo to the next. But while Tyler's action-centric scores are all about energetic attitude, he rocks out in a way that shows his old-school understanding for the importance of themes, let alone melody. It's exactly this dynamic way of incorporating an orchestra with cutting-edge chords that's made Tyler into one of Hollywood's most in-demand composers, a flurry of assignments that have reached some sort of zenith this August with the successive release of a score triptych.
What just might be one of his best scores is up first at bat with TEENAGE  MUTANT NINJA TURTLES, which reunites Tyler with filmmaker Jonathan Liebesman (DARKNESS FALLS, BATTLE LOS ANGELES) for a frenetic, and surprisingly good reboot of four heroes on the half shell (and one big rat as well) who haven't been seen in cinemas in two decades – now given a bells-and-whistles reboot by producer Michael Bay. Tyler's score embodies the fun, uncondescending attitude of these guardians of the sewer, delivering a powerhouse score where a terrifically memorable theme (which even gets turned into the rap song "Shell Shock") is sure to announce the turtles lightning-speed heroics. Top that off with a shredding symphony and a cosmic chorus, and it's easy to think you've somehow already gotten a hold of the super-team score that Tyler will be writing next year for AVENGERS: AGE OF ULTRON.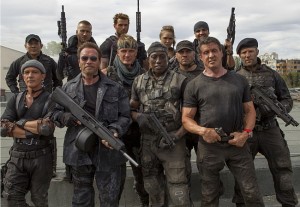 Continuing collaboration with Sylvester Stallone that did Jerry Goldsmith proud on RAMBO, Tyler takes on his third 21st mission with 80s action greats for THE EXPENDABLES 3. Tyler's score captures the bad-ass nobility that embodies the love that succeeding generations have had for the likes of Lundgren, Snipes, Schwarzenegger and every other septuagenarian worth their slaying salt. Tyler shows they're definitely not too old for this shit with a blazing rock guitar theme, Latin grooves and slam-bang percussive set pieces that manages to keep the franchise fresher than ever. To contrast these killer dudes is the surprisingly low-key, and human score of INTO THE STORM. Turning from Thor's God of Thunder to the real deal, the composer channels not only Holstian fury into the gigantic twisters, but brings forth a solemn, even moving heroism to capture the filmmakers chronicling nature's fury, and the town trying to survive it. Tyler's work is top notch musical storm chasing that's just as much about the getting a thrill from seeing special effects twisters as it is examining the tragic aftermath.
Now taking a very short breather before the likes of FAST & FURIOUS 7 barrel their way into his studio, Brian Tyler talks about an particularly breathless musical trilogy of sorts that not only confirms him as one of the hardest working composers in Hollywood, but also one of the town's most enthusiastically talented.
ASSIGNMENT X: You can say there's an inherent silliness to a title like TEENAGE MUTANT NINJA TURTLES. How important was it for your score to take the movie seriously?
BRIAN TYLER: I think the idea was to try and create something that would get the tone right. It's an adventure movie. But it's a fun adventure movie in its style, as opposed to play what you'd consider to be pure comedy. There are comedlc elements to it. It's actually a really funny movie at times. But on the surface, it's not a "goof." The film actually has real drama, much in the way that movies like RAIDERS OF THE LOST ARK did. They wink at the audience, but at the same time they have a real weight. So the music had to capture that, which is why I went for a rousing theme.

AX: It's definitely one of your most memorable themes, and thematic scores at that. What's the trick to writing a memorable melody, when so many movies are afraid to go there?
TYLER: Yeah. Sometimes it's an uphill battle to have thematic scores. Depending on what movie you're working on, you often get discouraged from doing them. But I think that themes can really anchor the film experience. And when I say "the theme," I'm use the term kind of loosely, because the TEENAGE MUTANT NINJA TURTLES theme essentially has three different themes inside of that one theme. It starts off on the album in a way that feels like you're hearing the origin to the story, a background if you will where the music tells you about the characters' struggles, and the darkness they face with Shredder. Then that goes into a more heroic piece that you could call the "adventure" theme, which has kind of a perilous old school feel that's a throwback to the old Saturday morning serials. That's done with an orchestra and a live choir, which I think is the way to go when you want something grand. The director Jonathan Liebesman and I grew up watching STAR WARS, RAIDERS OF THE LOST ARK and BACK TO THE FUTURE, which is the vibe we wanted to evoke. It's not really a DARK KNIGHT type of thing. It's actually closer to the original SUPERMAN style that John Williams used. That not only evoked the heroism in the story, but also the innocence of adventure films that appeals to all ages.


AX: At the least, you could say your TEENAGE MUTANT NINA TURTLES score is a hell of a coming attraction to what you'll be doing for AVENGERS: AGE OF ULTRON!
TYLER: Yeah. It's the approach for these kinds of things. I was glad to have this kind of super-heroic musical canvas, that's for sure.

AX: When you've got a movie with the world "NINJA" in the title, how Asian did you want to make the score?
TYLER: You can certainly hear a lot of Taiko drums, bansuris and a lot of other Asian instruments that certainly echoes the "ninja" side – though not so much the turtles' side. I mostly used that Asian music for Shredder, who's a ninja gone wrong. I wanted to evoke that, but without the music hitting you over the head. It's kind of a regional thing, as Shredder's views are powerfully tied to his martial arts sect, The Foot Gang. But for the most part, the music is in the environment of New York City, and it was important for me to blend the Asian elements with the orchestra in that respect.

AX: Michael Bay's own footwork is certainly all over the rapid-fire editing. How important was it for your music to match those frenetic visual rhythms?
TYLER: Sometimes the music goes along with it, like when it's empathizing the dizzying feel of flying down a mountainside. A lot of the music is an insane "theme park" ride like that. But at other times I wanted my music to counter that, to make you feel grounded by a theme even as the camera is swooping around. Subconsciously, I think the music helps the audience know where they are in scenes like that! (laughs). Music is all part of the process when a film's being edited in a certain way. And Jonathan often agreed that the score should go in that "counter" direction.


AX: There's been a lot of misgivings as to how well the movie would turn out. How do you think the fans will react now when they see you can finally do a TURTLES movie with relative seriousness?
TYLER: This movie was a big task to take on, especially as it's title almost guarantees that you're not going to take it seriously in the first place. Yet the film takes notice of that and recognizes its own absurdity. And once you buy into the fact that these turtles can speak and are ninja masters, you can buy into the concept and go on from there, and appreciate it as a really cool action film. You have to buy the movie in the same way you did when you watched the first SUPERMAN, and saw a guy change in a phone booth into this blue and red suit, and then fly into the air. If you over think any of this stuff, then it really doesn't make a whole lot of sense. But if you get into the right dramatic frame of mind, especially with the music's help, then it works. TEENAGE MUTANT NINJA TURTLES does the right thing from the very beginning by pulling you into it world. I think Jonathan really cracked this story. And I hope that people will give it a shot, because I think they'll really enjoy it.

AX: You're second big "team" movie this August is THE EXPENDABLES 3, of which you continue to be the young musical Turk. How do you think the movies have evolved to this point?


TYLER: I think as THE EXPENDABLES movies grow that they become more "expendable" in a way. These guys are getting older. The casts keep getting bigger. The action keeps getting bigger, and funnier. And the characters notice this, especially Antonio Banderas' one (and he's really awesome in the film). I think the EXPENDABLES  audience likes knowing what they're going to get in this way. They're going to have cool one-liners and all of that. We just start blowing stuff up, and have a lot of fun doing it.
AX: You could say your music keeps these guys feeling a lot younger than they are.
TYLER: Yeah. That's the marching orders. We try to keep the music dangerous when it needs to be, and also to have the feeling that you're having a blast with your friends. Yet the score allows itself to have these introspective moments as well. It's a musical dynamic that keeps things interesting.

AX: This EXPENDABLES score definitely has the most "rock and roll" feel of the bunch. The Latin touch also keeps it hopping.
TYLER: There is a kind of Sergio Leone / Ennio Morricone type of vibe to the film, and the score. There's a "counterpiece" cue in there that plays like kind of a waltz with pianos and strings. You've got to keep the audience musically guessing!

AX: The score is exhausting in a fun way. It's almost like hearing James Horner's famed "Bishop's Countdown" cue from ALIENS in one piece after the other. Does it ever get physically tiring making each musical "build to the explosion" piece different from the other, let alone in the many other action scores you do?
TYLER: The EXPENDABLES 3 score is pretty wild, that's for sure. There is a lot of action in the movie. But each action score is different in its own way. So you always want to try to do something different. This is the third movie of this particular series, which is fun, because now I get to reference myself from the first "Expendables." These are just fun gigs for me. I love working with Sly. We're good pals.


AX: I think you've getting to the point where you've scored as many films for him as Jerry Goldsmith and Bill Conti.
TYLER: It's true. It's kind of crazy. But it's been many, many times. And it just keeps going.

AX: You could almost consider INTO THE STORM as the underdog of these movies.
TYLER: It is! And it's one of my favorites. There's a definite concept behind the album. I told the director Steve Quale very early on that the primary element of the score had to be melancholy and emotional. People might be expecting a certain kind of action score from me with this. But it's really a 20th century concert work that's more along the lines of John Corigliano and John Adams, which gives it a majesty, as opposed to doing it in the style of TEENAGE MUTANT NINJA TURTLES. The theme is very introspective. Sometimes there'll be a piano solo, or a cello solo, for a very long time. That really gives the idea of humanity in the face of this impending natural catastrophe. The idea of "nature" itself is very conceptual, as opposed to literally scoring it like thunder. You never know when a storm is going to strike. And I imagined myself with the fear factor of being in an open field, not knowing if some massive storm is going to hit.
The way these twisters would touch down is to start softly, and then – wham! It's right in front of you. So the concept of the music would be like you're on the savannah, and you're being stalked by a lion. It's very quite, way in the distance. That's why the score starts with instruments like the shakers, which are recorded very far away. There's a static string chord that holds, which is the concentration of "the lion" stalking you in the distance. You don't know where you are. The wind's blowing lightly. Then boom! The "lion" charges, and that's when it's on. So you have African instruments being combined with an orchestra, which is obviously not regional to the Midwest where this movie is set. But I thought that would be interesting take on the subject.

AX: Do you think that doing the THOR: THE DARK WORLD score set you up well to take on these particular god-like storms?
TYLER: I suppose. They are connected, aren't they? I would say that the THOR score had a lot more to do with thunder and storms than "Into the Storm," which is more of a psychological score, although the orchestra does get big. It's very much the opposite of THOR. If there's anything "Norse" about the score, then it's actually the main melody, which sounds like an old Viking folk lament.

AX: As TWISTER showed, there's really no "winning" against these "villains," which are the spawn of Mother Nature, which is getting angrier than ever with global warming.
TYLER: Yeah. For sure, especially in how the storms come and go. In that way, it was important for me to leave all of these long pauses on the soundtrack, where it gets really quiet. You don't know if the storm is 200 yards in back of you, or ten feet in front of you. You don't know where the "breathing" is coming from, and the score is doing a lot of hiding and seeking like that.

AX: You could say you've got a perfect score storm, as TURTLES and STORM hit on the same Friday, and then EXPENDABLES 3 the week after that.
TYLER: It's crazy. They all seem to have come together at the same time.

AX: Is there ever a point where you just have to say "Basta!" in terms of doing so many movies that happen one right after the other?
TYLER: I have an inner gage when I feel it's too much, then I just don't do a particular film. I'm lucky that I get more offers than I can possibly take. But I always want the phone to be ringing, because I want to do this for the rest of my life. I don't plan on slowing down, but I certainly have to say "no" more and more. I consider myself very lucky to make a living at this. It's almost bizarre for any musician to turn down work as much as they to have to keep themselves sane. I know what my limit is. And I keep myself at that limit.
AX: Next to AVENGERS, a lot of people are looking forward to seeing how FAST & FURIOUS 7 comes out. What's it psychologically been like for you to score it, especially given the doubt that it was even possible to finish the movie given Paul Walker's passing?

TYLER: Paul was someone I knew. I thought he was an amazing guy. I'd done a movie for him called THE LAZARUS PROJECT, which he was very fond of. His family told me that. I even did "Timeline" with him back in 2003. Paul was a big part of the family that is the FAST & FURIOUS cast. He worked with them for the majority of his acting career. That's a lot of movies. And the people involved with them knew that Paul would want them to finish up FAST & FURIOUS 7 and give it their best. What happened to Paul was a tragedy, but the movie is a celebration of his life. The series may have started out as rock 'em sock 'em race movies. But it evolved into a movie that is really about family – even though the stories of course had stuff like heists in them. Paul's character (who was named Brian) and had a wife and kids. So the movies were heading in a certain direction with them. Now this has ended up being our goodbye to Paul, and Brian. So above everything, we want this to be a tribute that will give him a nice send-off. It will be worthy of who Paul Walker was a guy, as an actor, and as someone who was dedicated to this series. That's priority number one. And if we've done that at the end of the day, then we'll have considered FAST & FURIOUS 7 a success.

Special thanks to Alexander Portilo for transcribing this interview

Team up with Tyler's "Teenage Mutant Nina Turtles" on iTunes HERE (on Atlantic Records), venture "Into the Storm" HERE (on Varese Sarabande Records) and then bring in the big old guns for "Expendables 3" HERE (available August 26th on La La Land Records)
Visit Brian Tyler's website HERE
AGREE? DISAGREE? LET YOUR VOICE BE HEARD – COMMENT BELOW
Related Posts: