By PETER BROWN / Contributing Editor
Posted: February 17th, 2011 / 09:27 AM
Cast: Ryan Seacrest, Randy Jackson, Steven Tyler, Jennifer Lopez
Network:  Fox, airs Wednesdays and Thursdays
Original Telecast: February 16, 2011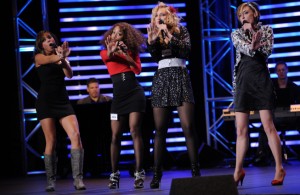 As I said last week, one of the things that I always wanted more of from AMERICAN IDOL was more of Hollywood Week. For nine years, they have glossed over the process, giving us just bits and pieces of what these mostly unstable and insecure people go through.
That was supposed to change in Season 10, we would get much more of the process and the singing and actually get some talent verses endless amounts of auditions that showcased the losers. And last week was a great start with two hours of the show dedicated to weeding out the initial people in the process and giving us some really good looks at some of the singers in the competition. But that was just the beginning as Part 2 was another two full hours of Hollywood Week.
As I said before and many times over, if AI really wanted to focus on the singing, the talent and bringing us quality performances, they needed to do something like this that not only gives more insight into who we will be seeing in the Top 24 or Top 12 but leaves the schlock behind.
We begin with what is probably the most stressful period during any Hollywood Week in any season in the group performances. Not only does it mean that you have to find people that are talented but find people that you actually get along with and will be willing to do what you and the others want you to do. Given how many of these people think very highly of themselves, it can and is very challenging for the contestants.
This year was no different. However, what was different was that we got so much more of the chaos and uncertainty. Whereas previous years we saw a few people here and there that struggled with group day and how groups crashed and burned. This year we get to see firsthand how stressful it is and how much of the right dynamic really makes the difference. I really liked this behind-the-scenes, pull-the-curtain back look at this aspect of the show that we really have never seen very much of. I also liked that they informed us about the rules of the group competition, that you had to have at least three people, that you had to have one member from each day of competition and that they had only 20 songs to choose from. We've guessed at these rules in the past since we hear the same songs over and over again but this is the first time they have been so spelled out to the audience.
Was there too much drama? Definitely, but I can handle that because it was worthwhile seeing these different people interact with each other and try to put something together that will wow the judges to move on to the next phase.
As for the groups themselves, they were a mixture of good and bad as they always are. And the ones that were good, really hit it out of the park. The ones that were bad, really were bad and made the judges' decision pretty damn easy. Many of the people we have been following from the auditions until this point didn't make it including Paris Tassin, Tiffany Rios, Emily Ann Reed, Alyson Jados, and Aaron Gutierrez.
However, Adam Lambert-ish James Durbin squeaked by, as did Jacee Badeaux, Lauren Alaina, Chris Medina, Brett Loewenstern and Chelsee Oaks.
In all, 68 contestants were sent home packing and nearly a 100 made it to the next round where it will be whittled down even further on Thursday.
Hopefully, AI will continue to impress in its coverage of Hollywood Week as this has been some of the best inside looks into the competition we have ever seen.
Related Posts: