By PETER BROWN / Contributing Editor
Posted: December 29th, 2010 / 11:16 AM
Your time is short. We know this. So in order to expedite your buying and Netflix decision making, we provide you with a list of the cool and not-so-cool titles coming out for movies, television and everything in-between. So put your feet up, grab some popcorn and check out this week's selections.
Yeah, I missed last week, it's the holidays, sue me. Anyway, this is the combined Dec. 21 and Dec. 28 releases out now.
Movies:
RESIDENT EVIL: AFTERLIFE – Another chapter of the video game franchise on the big screen has Alice once again kicking ass and taking Umbrella names as scores of the undead try to eat her flesh. We also get finally the debut of Chris Redfield and Albert Wesker. This is offered up in both DVD, Blu-ray and 3-D Blu-ray (so if you have a 3-D TV and a 3-D Blu-ray player that is nice). There are a host of special features as well including seven featurettes on the making of the film, eight deleted scenes, audio commentaries and much more.
DEVIL – Yeah, this is the film that when they showed the trailer in the theaters and M. Night Shyamalan's name appeared it was boo and laughed at. But the last laugh is on us. This movie rocks. Perhaps one of the best horror movies of the year in fact. DEVIL is more psychological horror than it is in your face but the supernatural elements are understated but powerful enough to get your juices flowing. I know, a bunch of people stuck in an elevator with perhaps Lucifer running wild seems like it would run out of steam quickly, it doesn't and keeps you guessing until the end.  Definitely worth checking out and perhaps Shyamalan's career isn't yet over from disasters such as THE HAPPENING and LADY IN THE WATER.
THE AMERICAN – George Clooney takes a break from the comedy and romance to put on his action hat once again playing Jack, a hit man that after a botched job agrees to do one last assignment in constructing an assault rifle for a mysterious contact. But instead of keeping his mind (and hands) on the task at hand, he falls for a local woman in Italy and must battle to escape his violent past.
SALT – First off, Angelina Jolie needs to eat some salt, as in salt on a sandwich. I remember when she was so damn hot because she had curves. Now she's skin and bones and although I know Holocaust chic is the rage in Hollywood, seriously, eat a sammich. The movie SALT isn't too shabby, I guess, it has its moments of being cool – such as the jumping from hood to hood car chase and her character breaking into the White House's top-secret, sophisticated bomb shelter. The DVD and Blu-ray versions feature an unrated cut with stuff not included in the theatrical version of the film. There isn't a heck of a lot in the extras so this is probably a rental but get it in Blu-ray as the special effects pay off.
AND SOON THE DARKNESS – You know this horror film had a boat-load of premise. You take two of Hollywood's über-hotties, put them in a tropical location, add a bunch of evil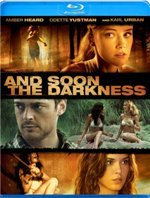 kidnappers and torturers and it begs for repeat viewing. Bah, they screwed it up. Yeah, the chicks are great to look at in Amber Heard and Odette Yustman but even these amazing looking women can't save a less than goretastic, less than scary or even suspenseful schlock of a film. Too bad really.
STONEHENGE APOCALYPSE – Yes, do indeed laugh at the title. It's a typical Syfy Channel fare with all the cheeseball special effects trimmings. Apparently, Stonehenge not only created all life on the planet but it now plans to take it all away. That is unless some talk show host can stop it because he's a conspiracy nut.
Television:
FAMILY GUY: IT'S A TRAP – Another hilarious FAMILY GUY tribute to STAR WARS. Once again travel to a galaxy far, far away with the Griffins and all the characters that we have grown to love on the series. This is touted as the final chapter in the tributes but you never know what will happen if sales are solid. This time we have Jabba, Ewoks, Endor and the Emperor, who tries to turn Luke to the dark side. Good stuff once again.
UNITED STATES OF TARA – THE SECOND SEASON – The Emmy Award-winning show from Showtime returns to DVD once again with its second season featuring the many minds of Tara and the family that deals with her multiple personalities. Just in time for the third season to begin, this is your chance to catch up.
BATTLESTAR GALACTICA: RAZOR – With the complete series of BATTLESTAR GALACTICA already out on Blu-ray, it makes sense that they will be issuing the movies from the series on Blu-ray as well. This is the best of the bunch with the tale of the Battlestar Pegasus from its highs to its notable lows all through the eyes of one officer that served on board the ship through all the Cylon war. Good stuff and looks even better in Blu-ray.
CAPRICA: SEASON 1.5 – Speaking of BSG, this didn't even come close to living up to the legacy the previous series had established. Instead, we got a boring tale of a bunch of rival families, stupid artificial intelligence, boring religious subplots and, oh yeah, the first Cylons being created. I know I'm not the only one that feels this way as the series didn't even finish out an entire year on SyFy getting cut short. Bonus, the final five episodes that went unaired are in this set so those die hard fans will enjoy that.
Related Posts: