By SONIA MANSFIELD / Columnist
Posted: December 21st, 2010 / 10:03 AM
There were so many things that made me rant-y this week that I couldn't pick just one. Consider it your holiday gift from me to you, dear readers.
• Why are people all worked up about Time Magazine's Person of the Year? It's Facebook CEO Mark Zuckerberg. Who cares? You don't read Time Magazine anyway. Can you even remember who was Time Magazine's Person of the Year last year? Exactly.
• Oh good. JWoww wrote a dating book. She's single, right? According to Amazon, customers who bought this book also bought a dieting book by Rosie O'Donnell.
• Umm, is THE TOURIST a musical? I see it's nominated for the Golden Globe for Best Motion Picture – Comedy or Musical. Is someone actually claiming THE TOURIST is a comedy? Well, the joke is on you if you paid $11 to see it.
• All the TV critics who love MEN OF A CERTAIN AGE are men of a certain age.
• It's common knowledge that teenage girls are getting knocked up in the hopes that they will get to star on an MTV show about pregnant teenage girls, right?
• Ryan Reynolds and Scarlett Johansson have filed for divorce. That was too much good looking for one couple anyway. Their union was selfish.
• Hey, you know what's funny? No, not Jay Leno. No, not TWO AND A HALF MEN. No, not THE TOURIST. Keep guessing …
• I was really disappointed that the episode of SARAH PALIN'S ALASKA featuring Kate Gosselin didn't end in a bear mauling. I thought I read somewhere that bears are bitchetarians.
• Did you know that DESPERATE HOUSEWIVES is still on? Me neither.
• Michael C. Hall and Jennifer Carpenter, who play siblings on DEXTER, are divorcing. Shall we place bets on which one of them starts dating the guy that plays their father?
• Jon Favreau is not going to be directing IRON MAN 3, which has the nerdosphere all worked up into a tizzy. Calm down, everyone! It's going to be OK. I think you need to sit down and watch IRON MAN 2 again. You will see that this is a good thing.
• A&E canceled THE HASSELHOFFS after only two weeks. They realized that they already had a show like that, it's called INTERVENTION.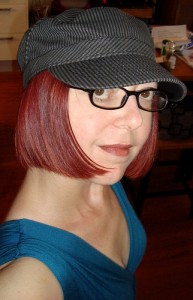 Sonia Mansfield likes to talk smack, make nerdy STAR WARS references and feed her unhealthy obsession with pop culture. Make sure you follow her on Twitter for constant updates or check out her blog, The Sonia Show.

Related Posts: