By PAUL ZIMMERMAN / Contributing Editor
Posted: October 5th, 2010 / 12:41 AM
Dateline T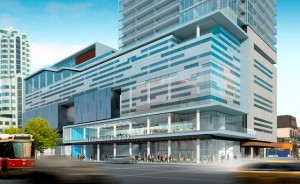 oronto September 9-18, 2010
I was wrong. I've been gleefully attending the Toronto International Film Festival for more than 20 years but when I heard they were assembling a festival entertainment complex I bitched.
And I moaned.
Much of the fun  and success of Toronto's film festival is that it is sprawled all over town. By jumping from theater to theater and event to event you're forced to learn all the wonders the city holds. I feared the new complex would consolidate the festival too much.
I was wrong. Located at the corners of Kings and John St, the brand spanking new TIFF Bell Lightbox is a five story cinematic wonder; three story atrium, five cinemas, two galleries, three learning studios, a bistro, a restaurant, a lounge and a center for students and scholars. In other words, a proper meeting place. It's the center of the festival and now the heart. Luckily the rest of the body gets ample play.
With the paint barely dry the Lightbox opened for the 2010 festival and promises to be buzzing all year long. It finally gives the festival a center meeting point, something that had been accomplished (to a degree) in host hotels (with varying enthusiasm). Meaning when we all congregated around the Sutton Place Hotel they welcomed us with open arms. At the Four Seasons, more like folded arms.
Now thanks to good old government funds, a big pile of corporate donations and the $22 million dollar gift from producer / director / local boy makes good Ivan Reitman, Toronto is now proud owner of 153,000 square feet of multi use space. Upcoming highlights include week long engagements showcasing the films of the world's greatest directors. And here's a nifty idea: 100 essential films, all shown in the way they were meant to be seen. (If you think that's on BluRay, take one step back. If you answered on the big screen, with an enthusiastic audience take one step forward).
And just to show it's not just about what's inside the gleaming steel and glass present, they even projected films on the outside too. Four newly commissioned media artworks related to the Essential 100 list: Hauntings I and II by Guy Maddin, 8½ Screens by Atom Egoyan, E-100 by James Andean and François Xavier Saint-Pierre and Essential Titles by Barr Gilmore. The wildest and  boldest experiment of all was the dual-channel video installation of two side-by-side projections of Alfred Hitchcock's PSYCHO. Slowed to 24 hours running time one played forwards and the other in reverse. When they met in the middle some sort of cinematic dream collided. Or as the street guy next to me shrugged and said, "Well isn't the whole idea to get people to watch films in a new way?"
Indeed. With the inauguration of TFF Lightbox 2010 proved to be the game changer.
Related Posts: