By SONIA MANSFIELD / Contributing Writer
Posted: June 28th, 2016 / 10:45 AM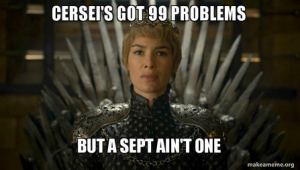 Welcome to the first episode of the DORKING OUT SHOW! This is the new podcast starring Chris Smith and Sonia Mansfield where two dorks talk in-depth about all things in entertainment.
We have a lot to unpack with this epic conclusion of the sixth season, so to help us out we bought in some super "Game Of Throne" dorks, including Harrison L. Smith and Peter Brown, associate editor of Assignment X. We talk about what we think about this explosive episode, plus some fun fan theories and what we think will happen in the final two seasons.
In a world where movie trailers ruin our movie-going experiences, two podcast hosts dare to ask, "What makes a good movie trailer?" Movie trailers discussed including "Star Trek Beyond," "Batman V Superman," "The Force Awakens" and the new "Ghostbusters."
And in our last segment, inspired by Chris' review of "Independence Day: Resurgence," we chat about bad movies we love, including "Independence Day," "Pearl Harbor," "Phantom Menace" and – wait for it – "Grease 2."
For links to all the movie trailers we discussed plus the interesting pop culture headlines that grabbed our attention this week, sign up for our newsletter.
We hope you enjoy our dorky podcast. You can listen to it here, or you can find us on iTunes, Stitcher, and YouTube.

Follow us on Twitter at ASSIGNMENT X
Like us on Facebook at ASSIGNMENT X
Related Posts: