By PETER BROWN / Contributed Editor
Posted: July 16th, 2013 / 09:40 AM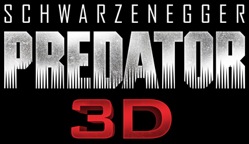 Apparently Fox will be offering a limited edition PREDATOR Blu-ray at San Diego Comic-Con that "officially" begins this Thursday but the floor opens Wednesday night for those people that want to scoop up some cool swag or comics before the panels and absolute madness begins.
So Twentieth Century Fox Home Entertainment is creating a booth dedicated specifically to the Arnold Schwarzenegger classic. At booth #3528 you can get your photo taken with a 3-D camera and then be transformed into a customized figurine that features the Predator holding a fan's severed head.
Naturally, this is going to be a huge hit. The catch is that you have to buy the PREDATOR Blu-ray 3D title that comes along with the limited edition Predator head box for $129.99. Oh, but if you just want the Blu-ray 3D it runs $49.99
Too much to cough up for the title? Well you can at least check out the 3-D version of the film inside the booth that will be made out to look like the jungle from the film.
There's also some social media madness going on. If you can find the Predator on the show floor and take a picture of it. Tweet it with the hashtag #HUNTthePREDATOR and you get a front of the line pass to the figurine line.
Worth it? You tell me.
Follow us on Twitter at ASSIGNMENT X
Fan us on Facebook at ASSIGNMENT X
Related Posts: