By PETER BROWN / Contributing Editor
Posted: April 8th, 2011 / 01:14 AM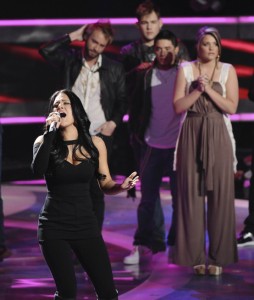 Whenever Seacrest talks about a shocking results show, it usually happens on the world's greatest karaoke competition, AMERICAN IDOL.
Who would be shocking? Jacob Lusk or James Durbin going home, and, yes Pia Toscano going home was indeed shocking. She was by far the best chick in the competition. Not just in looks but in talent. It doesn't make any sense except for this fact – the tweens dominate AMERICAN IDOL. Not a single dude has been kicked off the show. Not one! Yet, four chicks have been given the boot.
The theory is TOTALLY being proved week after week.
What does that tell us? That either housewives, college chicks and twentysomethings either hate their own kind or that tweens are so dominant in this reality show that it doesn't matter what these other voting blocs (along with whatever dudes are voting in this show) do because they will triumph.
Or, I am missing something. Someone tell me why, because not only has she been rock solid every night of ever week but she was one of the best, if not the best, last night (especially considering the rest floundered).
So you are telling me that Pia deserves to go home over someone such as Stefano, who only sings ballads over and over again with zero personality or interest. You are telling me that Pia deserves to go home over someone such as Paul McDonald, a dude that's middle name is hackneyed?
Usually I don't give a rat's ass about who goes home but this time it matters because now all I gotta look at during the competition is either Lauren or Haley. That's right it's a sausage fest. And to me that screams that little 12 and 13-year-old girls are voting to keep their favorite good looking boy in and not giving crap about talent.
Here's how the results went down in case you missed it:
First, Lauren Alaina, Stefano Langone and Casey Abrams are brought out on stage. Lauren is safe. Casey is safe and Stefano is in the bottom.
Next up, Paul McDonald, Pia Toscano and Scotty McCreery are brought on stage. Scotty is safe. Paul is safe. Pia is in the bottom.
Finally, James Durbin, Haley Reinhart and Jacob Lusk are brought on stage. James is safe. Haley is safe and Jacob is in the bottom.
I skipped over the rest, saving you the pain of watching another bad medley, another lame Ford commercial, Russell Brand making an ass of himself, something beyond awful from IDOL alum Constantine Maroulis, a Skeletor performance from Iggy Pop and a horrible TMZ bit that fell as flat as Lauren did on the stairs.
AGREE? DISAGREE? Let your voice be heard – COMMENT BELOW!
Follow us on Twitter at ASSIGNMENT X
CLICK HERE for a rundown and review of AMERICAN IDOL – Season 10 – THE TOP 9 PERFORM

CLICK HERE for a rundown and  review of AMERICAN IDOL – Season 10 – THE TOP 11 PERFORM
CLICK HERE for a rundown and review of AMERICAN IDOL – Season 10 – THE TOP 12 PERFORM
CLICK HERE for a rundown and review of AMERICAN IDOL – Season 10 – THE TOP 13 PERFORM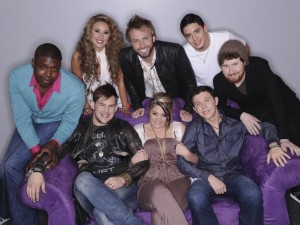 Related Posts: